The Guyana cricket team let a possible semi-final place slip from their grasp last night when they lost a last ball thriller to Jamaica by two wickets as the Regional Super50 competition continued at the Guyana National Stadium, Providence.
Guyana needed to defeat the Jamaicans to qualify for the Super50 semi-finals leg of the tournament after Barbados lost to Trinidad and Tobago by 41 runs. The defeat meant that the locals ended the round robin competition on a disappointing eight points.
Winning the toss and electing to bat first Guyana were restricted to 190 off their 50 overs thanks in part to excellent bowling from man of the match Dave Bernard Jr. who picked up four wickets for 24 runs. Assad Fudadin and Anthony Bramble each scored 31; Leon Johnson made 26, and Veerasammy Permaul and Steven Jacobs, 24 each.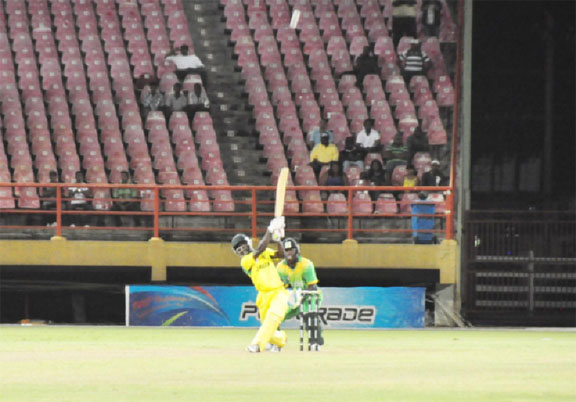 The game was reduced to 49 overs-a-side after a heavy downpour came in the 37th over and last just about an hour. Nkrumah Bonner picked up 3-23 and Nikita Miller 1-31. Chasing 191 for victory, Jamaica started off badly losing Xavier Marshall for a duck in the first over.
Pacer Ronsford Beaton continued to bowl with aggression and provided results picking up three wickets in the second innings.
After a 51 run partnership between Danza Hyatt who made 24 and Bonner who made 23, Jamaica slumped to 67-5 before wicketkeeper Carlton Baugh and Jermaine Blackwood came together  with a sixth wicket partnership of 88.
Baugh made 40 and Blackwood 26 before the pendulum swung Guyana's way again as the reduced the Jamaicans to 158-8.
But with three runs needed off the final ball Miller smashed off spinner Deonarine for six to send the Guyanese crashing out of the competition. Miller was unbeaten on 22 and Andrew Richardson not out 15.
Guyana coach Esaun Crandon in an invited comment said:"I'm disappointed with the way we finished especially since we started well and managed to restrict them in the middle overs.
"The dropped catches and misfields played a part in our demise. We however will be playing for pride in our four-day encounter starting on Wednesday." Guyana will face Jamaica in the four day game from April 10-13.
Scorecard
Guyana Innings     
A Bramble lbw b Bernard Jr                                             31
T Griffith b Bernard Jr                                                        07
A Fudadin c wkpr Baugh Jr b Cotterell                      31
L Johnson c Hyatt b Bonner                                          26
N Deonarine c Hyatt b Bonner                                      09
S Jacobs c Richardson b Miller                                     24
R Ivan c&b Bonner                                                             02
V Permaul c wkpr Baugh b Bernard                            24
D Bishoo b Bernard Jr                                                       11
P Wintz not out                                                                   03
R Beaton not out                                                                08
Extras: (nb-3, w-4, lb-7)                                                 14
Total (for 9 wickets off 49 overs)                              190
Fall of wickets: 1-31, 2-49, 3-103, 4-104, 5-114, 6-118, 7-163, 8-178, 9-179
Bowling: Richardson 10-0-45-0 (nb-1), Cotterell 10-0-30-1 (nb-2, w-3), Bernard Jr 9-2-24-4 (w-1), Lambert 8-0-30-0, Miller 6-0-31-1, Bonner 6-3-23-3
Jamaica Innings     
D Hyatt c wkpr Bramble b Beaton                              24
X Marshall c Bishoo b Jacobs                                      00
N Bonner lbw b Bishoo                                                   23
A McCarthy c Fudadin b Permaul                             00
T Lambert c wkpr Bramble b Beaton                       08
J Blackwood b Wintz                                                       26
C Baugh Jr c Bishoo b Beaton                                     40
D Bernard Jr c Griffith b Permaul                             09
N Miller not out                                                               22
A Richardson not out                                                    15
Extras: (nb-2, w-13, lb-10)                                          25
Total (for 8 wickets off 49 overs)                            194
Fall of wickets: 1-1, 2-52, 3-53, 4-67, 5-67, 6-125, 7-150,8-158
Did not bat: S Cotterell
Bowling: Jacobs 10-2-33-1, Beaton 8-0-47-3, Wintz 6-1-25-1, Bishoo 10-2-33-1 (nb-1), Permaul 10-2-20-2, Deonarine 5-0-25-0
Around the Web