Bronze medals were the order of the championships for Guyanese racquet wielders when the curtain came down on the Caribbean Junior and Cadet table tennis championships at the Jean Pierre Sports Complex, Wrightson Road, Mucurapo, Trinidad and Tobago last night.
The Guyana team ended with 10 bronze medals two in the team events and eight in singles and doubles.
The junior boys' team of Stefan Corlette, David Duncan, Scott Garraway and Sheldon Atherley ended joint third with Puerto Rico while the junior girls' team of Chelsea Edghill, Akecia Nedd and Jewell Todd placed third ahead of Trinidad and Tobago in the team events.
Edghill was the most successful racquet wielder ending with three individual bronze medals while Corlette ended with two.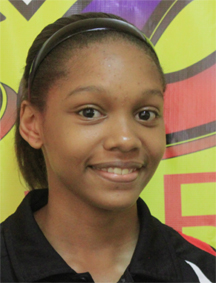 The other players winning bronze medals were Akecia Nedd, Duncan and Shemar Britton.Edghill won a bronze medal in the singles competition where she reached the last four. The other two bronze medals were won in doubles play where she teamed up with Nedd and Corlette to reach the medal round in the girls' and mixed doubles competitions respectively.
Corlette and Duncan also gained bronze in the boys doubles while Britton, became the only other player (along with Edghill) to reach the medal round in singles play.
Guyana's Elishaba Johnson nearly pulled off the upset of the tournament when he lost in five games to Trinidad's young ping pong sensation Aaron Wilson.
After dropping the first two games to Wilson 7-11, 5-11, Johnson won the next two 11-9, 11-7 before dropping the decider 7-11.
The Guyana team is expected to return home today.
Around the Web