Former Georgetown Football Association (GFA) secretary and current Petra Co-Director Marlon Cole is surprised at the support for former K&S Organisation Co-director Aubrey "Shanghai" Major's in his bid to become president of the Guyana Football Federation (GFF)  as he served during Colin Klass's tenure  which lacked accountability and transparency.
Major, who will be running for the Guyana Football Federation (GFF) presidency at its electoral congress on Friday, is being touted as the liberator of Guyana's  football. He has been garnering support from various sections of the populace including businesses and national players, which, Cole says, "is mind boggling as he was part and parcel of an oppressive regime as a chief lieutenant in the Colin Klass era."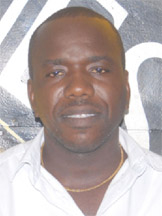 The former GFA executive in a recent sit down with Stabroek Sport vowed that he would not support Major in his bid for the GFF presidency because "he was and continues to be an integral and influential player in the decision making operation and posture of the GFF."
"When we had the issue with Tagman and the accountability with regards to the $7 million from tickets sale for the Suriname versus Guyana international match Shanghai was there. The GFF on Monday the 10th of January, 2011 solidified a four-year deal with Plus One Fashion to equip its various national teams with equipment that never came to fruition. The Kashif and Shanghai Organization also had a deal with the same company for their yearend tournament which turned out to be fictitious," said Cole.
He also stated that: "US one hundred and twenty five thousand dollars have  been spent on the GOAL Project at Orangestein, East Bank Essequibo for which they have nothing to show for it but clearing a piece of land and all along Shanghai was there and still there. Recently, the match from Mexico was switched from the National Stadium to the United States and the GFF was handsomely rewarded for the switch but up to today we don't know the figure of that proceeds. What we know is that the GFF is in the debt of millions and Shanghai continues to be there."
Cole said that GFF acting President Franklin Wilson, GFF Treasurer Duane Lovell and GFF Organizing Secretary Major are the persons who should know everything about the switch.
"If those three individuals can't tell the nation before the election how much was the figure gained from the switch, then they should not run for office," he contends.
According to Cole, subject to confirmation, the GFF is circulating a document to allow them to go into the election with only the 2010 audited financial statements and without the 2011 and 2012 audited statements.
"How could that be? The General Council of the GFF should reject such a motion and in addition, I am calling on the General Council to do whatever is in their power to remove any and every motion to allow democracy to reign and prevail," he said.
GFA nominee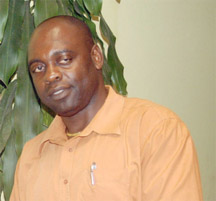 Cole said he wanted to make it clear that he was not speaking on behalf of the Petra Organization but only as a director within that group. He also said that GFA nominee Christopher Matthias is his choice for the presidency of the GFF. "I think he would institute the type of constitutional reform that would not see any repetition that would have happened under the Klass era," he explained, adding that the democratic process utilized by the GFA to nominate Matthias was the correct method used to elect a candidate to represent the body.
"Here you have the most active association with over 17 or 18 clubs of which nine categorically stated they wanted Matthias to run for GFF presidency. [There were] also two other distinguished gentlemen who ran alongside Matthias… APNU Member of Parliament and Attorney-at-Law Joe Harmon and Guyana Defence Force Colonel Bruce Lovell and due to the process utilized by the GFA, they could have also been nominated but however the nine clubs choose Mathias. If each of those 9 clubs have a 100 players then it mean 900 players in Georgetown and by extension Guyana were given an opportunity to select and nominate a candidate who they feel would represent them effectively," he explained.
According to Cole, Matthias is also a part of a successful GFA that is in good financial standing. "This is the association that continued after the Troy Mendonca and Marlon Cole era to stand up to the GFF in terms of carrying them to the court, having FIFA intervene and being successful at a yearend tournament twice so that they could be in the economic green and based on the constitution reform and the democracy exhibited by the GFA, that is the way to go. I would like to see the GFF become a GFA in terms of generating funds off its own which Matthias was part and parcel of accomplishing," he said.
Loyalty and favours
When this newspaper asked Cole why, in his opinion, Golden Jaguar stalwarts Kayode Mckinnon and Charles Pollard would openly support Major's GFF presidential bid, Cole said he believed that the two lacked good judgement.  "I would empathize and sympathize with them because of their lack of judgment but how could you make a decision of selecting and supporting a dictatorial candidate that was part of an oppressive regime based on the fact that he might have afforded you phone calls when you were on your sojourn overseas?" he queried.
"How could you be so limited? My suspicion is that those players are exuding bias and loyalty to Major because of the fact he is from their community and might facilitate the process of them retaining a stint in Trinidad and Tobago, which is nothing of significance because no player in that era could show me that they went to Trinidad and play professionally, return to Guyana and erect for themselves a property and have a viable living sustenance," he said.
Cole also hoped that the other players "wouldn't be so short sighted or myopic in their judgment because they are helplessly dependent on some good will of Mr. Major in the future."
Other candidates
Asked about his thoughts on the other candidates, Cole said he would be pleased if Alfred King and Ivan Persaud had been nominated via a process similar to the GFA's.  Pointing out that while he did not know much about their nomination process, "the one for the GFA was publicized. I don't have a problem with any of these two candidates but the reason I am rooting for Matthias is that I believe he would implement the necessary constitutional modifications that is needed in the GFF."
Further, he opined that "King might be able but his job as Permanent Secretary of the Ministry of Culture, Youth and Sports and his position as President of the Guyana Football Referees Council (GFRC) could better lend positive support to the GFF but not in the capacity of president. Based on his affiliation with the ministry he might not have the leverage to act in the best interest of the game like Matthias would."
"Mr Persaud, I know as a player, but he has never been tested as an administrator locally of any league, club or association. However his integrity from all indications is unchallenged, his love and expertise for the sport is unchallenged and I think serving Guyana in the capacity of technical director or head coach might be a plus and be solidly or suitably utilized and that is why I am not supporting him for GFF top job," Cole added. He added: "Even if Matthias does not ascend to the Presidency of the GFF, then we would have gone some way in terms of democracy because Klass is not there."
Around the Web