Newly elected Public Relations Officer (PRO) of the Guyana Rugby Football Union (GRFU), Marissa Lowden says plans are afoot to tackle the issues of the sport and place rugby among the elite disciplines like football and cricket.
New blood was breathed into the union following the election of a new executive body at the Annual General Meeting (AGM) on Sunday and the executives will be working feverishly to return the sport to its illustrious days.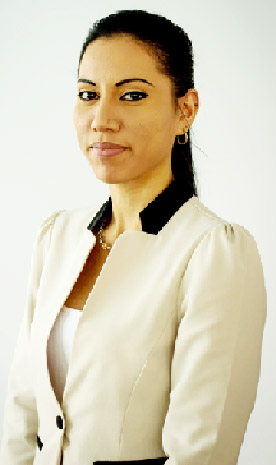 Lowden told this publication that the union to brass including newly elected president, Peter Green, will meet this afternoon at the Guyana Olympic Association (GOA) building to discuss short and long term goals.
"The Guyana Rugby Football Union will be blazing the trail to become one of the most recognized disciplines in Guyana," Lowden disclosed yesterday.
"The GRFU's new executive will be meeting tomorrow (today) to plan initiatives to build and strengthen the union and its players for the year".
Touching on her personal role in the GRFU, the acting Executive Director of the Georgetown Chamber of Commerce stated: "As the new PRO, I am extremely excited to work with the GRFU team and I plan to use my media and communication skills to hype, build, maintain and manage the reputation of the GRFU by using all forms of media and communication."
Lowden added: "I promise to coordinate the flow of information from teams to press and feed the public's hunger for rugby related news, team data and player information.
This will play a critical "promotional" role in generating public interest, increasing the rugby teams' visibility and filling the stands with fans."
The 26-year-old also said that her PR initiatives will not just be geared towards improving the relevance of the GRFU but will also be geared towards marketing the sport and the teams.
"As part of team investment, companies are willing to pay to become sponsors or providers for teams but the major challenge is to attract the bidders but I am 100% sure that the talented players will make this attraction very easy," Lowden declared.
At the AGM on Sunday, Lowden was voted unopposed as the union's PRO.
Senior vice president, Mike McCormack was returned to his post unanimously as was Honorary Secretary, Nicole Nero and Match Secretary, Peter Campayne.
Lieutenant Colonel Ramkarran Doodnauth replaced Alwin Etwah as the junior vice president while Roger Perreira succeeded Leonardo Butcher to the post of Honorary Treasurer after he garnered 15 votes to Butcher's four.
Butcher (four) also failed to garner more votes than Arianne Mangar (17) for the post of Assistant Secretary/ Treasurer.
Alfred Granger, Captain Earl Edghill and Robin Roberts were voted as the three committee members.
In his first speech as president, Green stated that he will try to do what is best for the union but every executive has to pull his or her own weight as well.
Around the Web