Alfred Mentore fired his way to victory in the Beacons Ministries Inc. 15th Anniversary Golf Tournament as the low handicappers dominated the event Saturday at the Lusignan Golf Club.
The consistent Mentore who just a few weeks ago won the Mings Products and Services Tournament shot net 69 to edge out William Walker in an intensely fought competition.
Both players shot net 69 from gross 76 playing off seven handicap but Mentore secured victory on a countback having shot a better back nine.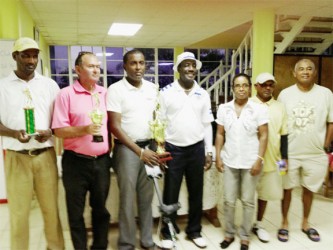 Mohanlall  "Santo" Dinnanauth  finished third  with net 70  from gross 74 playing off four handicap.
Dinnanauth also had the best gross of 74 while Imran Khan had the longest drive.
Jerome Khan, Lusignan Golf Club President thanked head of the local Beacon Ministries Reverend Dr. Philbert London for hosting the tournament as the Church celebrates its 15th Anniversary this year.
Dr. London who participated in the tournament thanked the LGC for partnering with Beacon Ministries in hosting the event.
He said his church promotes a healthy lifestyle and encourage its members to participate in sporting activity in addition to worshipping.
Meanwhile, the Annual General Meeting of the Lusignan golf Club will take place on Saturday at the Club House starting at 16:00 hours following a nine-hole competition organized by the Club.
Around the Web