Alpha United, compliments of Gregory "Jackie Chan" Richardson first half strike in the ninth minute, were crowned Mayor's Cup champions after they defeated newcomers Slingerz FC 1-0 in a hard fought encounter at the Georgetown Football Club (GFC) ground Bourda, Sunday night.
The win was worth a cool one million dollars for the victors.
Coach of the victorious Alpha unit, Wayne `Wiggy' Dover, weighed in on the encounter following the match.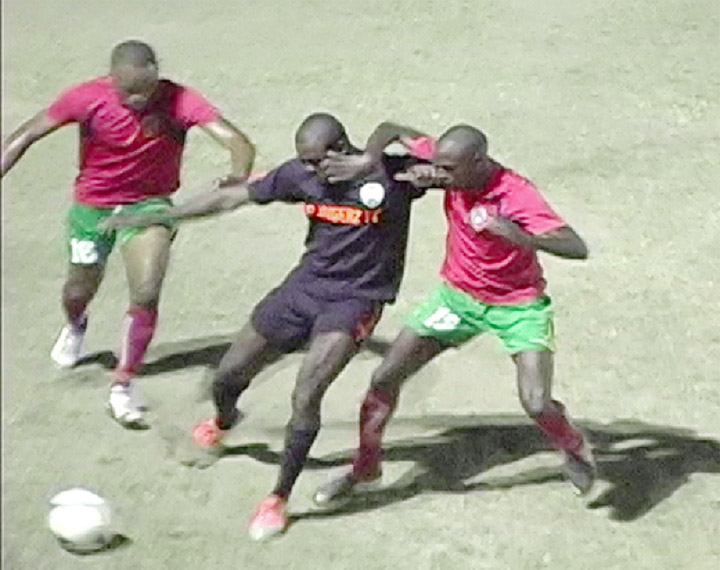 "They are a very good team and they showed a lot of character and fight as we had to dig deep and fight for the win. Our strategy was to neutralise and cut out all the support lines to their most influential player Dwain Jacobs which by extension neutralised the team. The score line didn't reflect the game as we created more opportunities than them and I am disappointed we didn't score more goals."
Receiving a perfectly weighted through ball from rampaging winger Dwight Peters, the mercurial 'false nine' upon receiving the defence splitting pass, expertly chipped the on rushing Slingerz custodian Ronson Williams to send the large mass into a frenzy.
On the back foot due to their early concession, the resulting score line would eventually hold through the game's entirety as Slingerz would be creatively negated through the combination of staunch defending by the 'Hammers' backline and ineffective and sometimes predictable offensive by their midfield area.
"They had some good spells of possession but lacked penetration and had we not approached the game like we did, the result might have been different.
Unlike other instances when our offense was the dominant factor last night was all about our defence and team organization. So far we have played in two knockout tournaments for the year and combined have only conceded a once while scoring twenty three times.
This stat shows that we are the best offensive and defensive team and gives credence to a solid all-round team performance for the year. Spectators feel because a team has good players that's why they win, you could have a bunch of good players and still lose. A coach is still needed to organize them and implement his philosophy and strategy on how we want his team to play," added Dover.
Slingerz FC coach Gordon Brathwaite in an invited comment stated:
"It was a good game and our biggest test to date. Losing one nil to a team which is a scoring machine is not a bad result as Alpha has been the number team in the country for last five years.
"The disparity in experience between the teams was evident; we had a lot of possession but lacked the penetration.
It was a really good effort, we have not gotten that cohesion yet but we shouldn't be ashamed as we could only learn from the result," said Brathwaite.
In the two exhibition encounters at 18:00hrs and 19:30hrs respectively, New Amsterdam United defeated GFC 2-0 while Guyana Defence Force (GDF) beat Riddim Squad 2-0 to open the proceedings for the evening.
The presentation ceremony will be held at the Chamber of City Hall tomorrow at 22:30hrs with the winning team receiving one million dollars and food hampers from Rick's and Sari and the losing finalists earning five hundred thousand dollars. Third place finishers will receive three hundred thousand dollars.
Tournament winners will also each receive hampers from Ricks and Sari's Agro Industries Limited. The tournament's Most Value Player (MVP) will receive a prize from Giftland Office Max while the leading scorer of the tourney will receive a microwave and mattress from Keishars Gift Shop and A.H and L Kissoons respectively.
Around the Web