Men's singles top seed Anthony Downes defeated junior national player Daniel Lopes in straight sets 6-1, 7-6(7-4) in a match of the Assuria Invitational Classic at the Non Pariel Racket Centre last weekend.
Downes won the first set easily but was made to work in the second set as Lopes forced a tie breaker against his more experienced adversary, eventually falling as Downes served out the tie breaker to claim the match.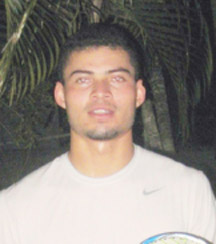 The win moves Downes to the top of the group with his two other victories coming against third seed Leyland Leacock by a 6-1, 6-0 margin and a walkover against Gavin Lewis due to heat related illness.
Jeremy Miller, the second seed, had a much easier encounter as he defeated Gavin Lewis 6-3 6-1. Miller's opening match against Leacock was cut short as Leacock retired due to respiratory complications, not before losing the first set by a 6-3 margin.
Also suffering health problems due to the extreme mid afternoon heat was Lewis during his encounter against Lopes. Lopes was awarded the match leading 7-5, 2-2 at the time of the Lewis's retirement. In the over 35 singles division, Carlos Adams crushed Harry Panday 6-0 6-1 in his opening match.
Godfrey Lowden, sporting a perfect three out three win record, currently leads the group with triumphs over Rudy Grant (6-3 6-0), Panday (6-3 6-1) and a three set victory against Mario Niamatali (3-6 6-2 10-8).
He looks set to take the title with one game in hand against the top seeded Adams.
The competition resumes this weekend with slated fixtures set to commence on Saturday and Sunday at the Diamond Tennis Center.
Around the Web