Alpha 'the Hammer' United at a simple presentation ceremony held at the Chambers of City Hall, Georgetown, yesterday were presented with their winner's trophy and cheque of one million dollars for their triumph in the recently held Mayor's Cup football tourney.
Georgetown Mayor Hamilton Green, during brief remarks congratulated tournament coordinator Lennox Arthur and the respective finalists while stating that tournaments or initiatives such as this can only be made possible through sponsorship from a number of individuals in the private sector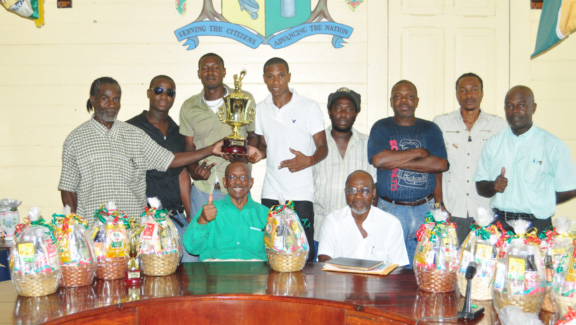 "Congratulations to Alpha for winning and also to Slingerz for making it to the finals as over the years we have been trying to emphasize participation of teams outside of Georgetown. Without the sponsorship from the private sector football will lose its lustre and I hope that football can be the catalyst for development.
Mayor Green further stated that a broader vision for the sport is required, that of training of the youth from an early stage and invest in learning the proper techniques early is needed so that we can be placed on the world stage.
"I would like to see the day where our national teams will be made up of 90 percent local players living and staying here," he said.
Losing finalists Slingerz FC received five hundred thousand dollars for their efforts while the Guyana Defence Force (GDF) FC collected three hundred thousand for finishing in the third position. Alpha United was also the recipient of hampers from Ricks and Sari's Agro Industries Limited.
Alpha also completed the clean sweep of the individual awards with captain Anthony Abrams and midfield 'hard man' Philbert Moffat receiving the golden boot award for most goals (five goals) and most valuable player (MVP) awards respectively.
Abrams received a microwave from Keishar's Gift Shoppe and a mattress from A.H. and L. Kissoon for his goal scoring prowess while Moffat will receive a television tomorrow from Giftland Office Max for his midfield exploits.
Around the Web