Alpha United, compliments of a six-goal burst by striker Manasseh "Ziggy" Primo hammered Uitvlugt FC 8-0 as the Guyana Football Federation (GFF) Super League continued at the Georgetown Football Club (GFC) ground Bourda on Wednesday.
Receiving a pass from fellow scorer Anthony Abrams in the eighteen yard box, Primo opened up his goal scoring account in the twenty fourth minute through a strike to the bottom left hand corner.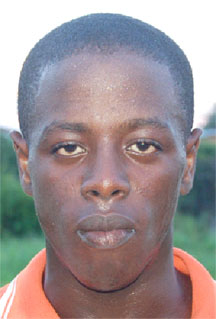 Constantly a thorn in the side of the youthful Uitvlugt team, Primo added to his tally in the fifty third minute upon receiving a pass within the penalty area, by unleashing a ferocious shot after turning his marker to the top left hand area.
Further goals in the fifty eight, sixty seventh, eighty sixth and eighty ninth minute completed the demolition with able support being provided by the duo of Bevon Mosley and Abrams in the fifteenth and sixty fourth minute respectively.
The mercurial striker and star of the evening in an invited comment modestly stated, "It's nothing new, it's a normal thing."
Victorious coach Wayne Dover also weighed in, "It's a sad affair that we have a national super league and have so much lopsided results.  It means something is wrong and these results are worrying.  That being said, Uitvlugt has the potential to be a good team.  They have a lot of talented players and the sky is the limit for them if they continue to work hard and a proper training programme is implemented, I would pledge to assist in helping to raise the standard."
Around the Web