The Demerara Cricket Board (DCB) in partnership with Insurance giants Hand-in-Hand Group of Companies yesterday launched the Hand-in-Hand second division one-day cricket competition.
The launch was held in the company's boardroom in the presence of Human Resources and Administrative Manager, Zaida Joaquin.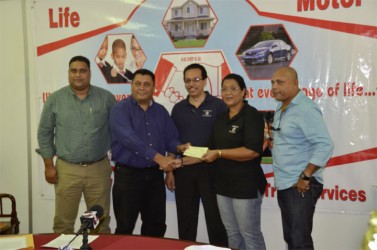 Joaquin presented a cheque, the amount of which was not disclosed to the media,  DCB president,  Raj Singh in the presence of other DCB officials, Director and Fire Manager of the insurance company, Howard Cox and the media.
"The DCB will be targeting over 100 teams from across Guyana with the aim of identifying hidden talent to take Demerara cricket to the next level," said Singh adding …"the board is pleased to partner with Hand-in-Hand Insurance to stage the competition which for the past 40 years has played a major role in producing every national cricketer coming out of the county."
After missing the last two years the company has now decided to renew its commitment to sponsoring the competition.
Hand-in-Hand may very well be the longest standing sponsor of cricket through the sponsorship of this competition and the DCB is very proud to be associated with this responsible corporate citizen, said Singh.
"We recognize the importance of investing at this level since this is where new talents emerge."
The competition is set to commence at the end of April across various venues in Demerara.
The preliminary rounds will be played in the various areas. Each area will play when it singals it's availability to the board. The final will be played under lights at a venue that will be named in the future.
Around the Web