Georgetown Football Association (GFA) Secretary Christopher Matthias was elected Guyana Football Federation (GFF) President when the entity held  its electoral congress at the Le Meridien, Pegasus Hotel, Kingston last evening.
After several rounds of voting, Matthias  defeated  GFF organizing secretary and former Kashif and Shanghai director Aubrey "Shanghai" Major by an 11-6 margin.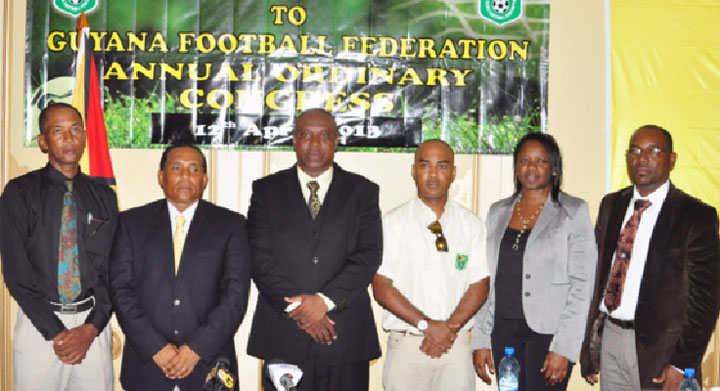 Witnessed by CONCACAF and FIFA representatives Bruce Blake and Costakis Koutsokoumnis, the newly elected president, in his inaugural address stated: "Today begins a process of healing. A healing which necessitates constitutional reform, administrative soundness, technical and tactical correctness, transparency and accountability together with equitable disbursement of resources, dialogue and inclusiveness and the marketing of the excellent progeny of the aforementioned. We the newly elected executives wish to express our heartfelt gratitude to all our stakeholders in helping us to arrive at this day and for the continued tangible support for the development of this beloved discipline we love so much."
Out of a total of 17 available votes, Matthias won the first round of voting, garnering six votes. Major and Alfred King each received five votes with Ivan Persaud being eliminated as he received one.
Matthias would once again gather six votes in the second round of voting, drawing with fellow nominee Major who also earned six. King's aspirations  ended as he only received five votes.
In the other contested positions of the congress, Persaud was elected to the GFF vice president post for two years defeating Arron Fraser 9-8. Collie Hercules was elected a GFF vice president for four years, earning 11 of the possible seventeen votes with Jevon Rodrigues, Jermaine Figueira, Rawle Adams and Franklin Wilson each receiving two, two, one and zero votes respectively.
In the final vice president position of the evening for four years, Raulston Adams compliments of 10 votes defeated Duane Lovell who garnered seven while Vanessa Dickens defeated Mark Phillips and Keith O'Jeer to win the executive committee member post for two years as she gathered nine votes. Phillips and O'Jeer received seven and one vote respectively. In the final contested position of the evening, Berbice Football Association (BFA) president  O'Jeer was elected to the post of executive committee member for a duration of four years, garnering 10 votes in the process. Troy Cadogan and Jermaine Figueira received four and three votes correspondingly.
FIFA representative Koutsokoumnis in brief remark stated: "My pleasure and satisfaction of how the entire process was conducted. It was very democratic and transparent and it's about time that the country moves on with its football related activities. Thanks to the electoral committee for all the work they have done and congrats to the new executive. We will be watching you."
CONCACAF's legal expert Blake posited:"On Behalf of CONCACAF president Jeffrey Webb and FIFA president Sepp Blatter we thank the previous administration for assisting in making this congress a reality. We thank the electoral commission for a job well done and FIFA and CONCACAF will be here to help assist and guide the new executives in any way possible."
Around the Web