"I like to give the fans their monies worth and put on a boxing clinic but if the knockout comes it comes but at the end of the day I will be the man with his hands raised in victory."
Words mentioned by the three-division boxing champion, Clive 'The Punisher' Atwell yesterday who is brimming with confidence ahead of his April 20 ring date against Venezuelan knock out artist, Rafael Hernandez.
Atwell, the reigning national featherweight, lightweight and junior welterweight CABOFE champion will face Hernandez for the vacant featherweight title in the headline bout of the card dubbed 'Firestorm' which will be staged at the Princess Hotel.
'The Punisher' reveled that his preparation has been like no other as he prepares for his toughest fight of his career since turning pro in 2010.
"Very stiff" Atwell said referring to his workout regimen. "For the first time in my boxing career I have to do like six hours of training a day it has been a stiff sacrifice if you want to call it so".
"We have been focusing on a lot of stamina training because boxing for 12 rounds is not an easy task; I run about six miles in the morning with a lot of power jumping and power squats because I will need the leg strength in the latter part of the fight".
Atwell who has been sparring with CABOFE middleweight champion, Edmond DeClou and others disclosed that he is also working on throwing effective power punches.
"I have been doing half an hour of sparring, the power is there but positioning and accuracy and the ability to transfer it in the proper positions is what we have been working on".
While Atwell is working out assiduously in the gym, he told Stabroek Sport he has also done his home work on his opponent.
"He is a good fighter no doubt" said Atwell of Hernandez. "From the tapes I have seen he is a crafty fighter like me, he has a lot of endurance because I saw him go a lot rounds under pressure, he is a good south paw".
So what is Atwell's game plan to earn a victory?
"From the tapes we saw I have to avoid him from moving too much, he likes to move and run around the ring, so my game plan would be to neutralize his movements and then deliver my money makers". Atwell boasted.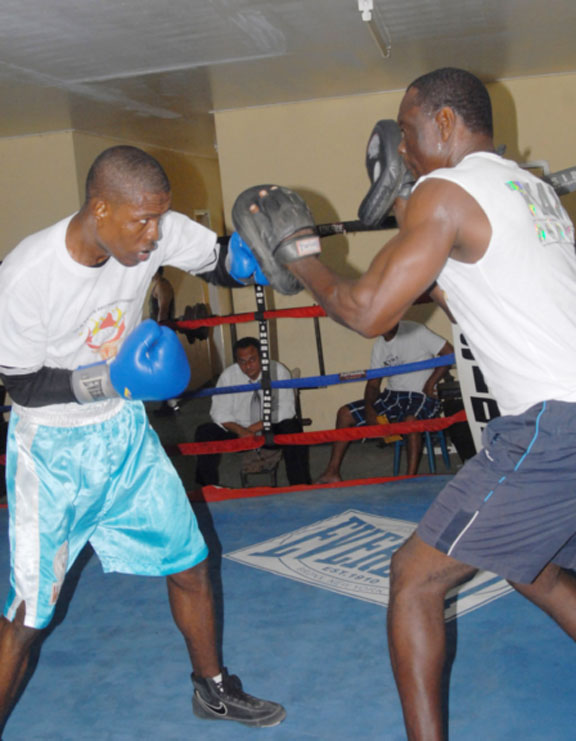 The undefeated Atwell did however admit he feels a bit nervous ahead of the biggest fight of his career.
"Some butterflies are there, every fighter goes through that but on fight night it is resolved especially after that first bell, but the confidence is there because the hard work is being done, I am coming with hard work, skill and commitment, we spend the time preparing and once that is done the confidence comes".
With a victory against Hernandez who boasts a record of 15 wins (13 KO's) three losses and two draws, Atwell will be eligible to enter the lucrative World Boxing Council (WBC) Cup which will box off in June.
The WBC Cup is a tournament to celebrate the WBC's 50th anniversary.
It will allow boxers in the tournament from all around the world to receive lucrative pay days as well as international exposure.
In his 10 fights since making his professional debut in January, 2010, the 24-year old pugilist's record stands at nine wins and a draw.
Five of those wins came by way of knockout last year.
Will Atwell punish Hernandez or will the Venezuelan be victorious? The answer will be known on April 20.
Meanwhile, other bouts on the card will see super middleweights Mahmood 'The Extractor' Loul and Derrick Richmond going at it through a scheduled four rounder.
Gladwin Dorway will take on Mark Austin for the vacant junior middleweight championship, Howard 'Battersea Bomber' Eastman versus Jamaica, Sakima Mullings for the vacant CABOFE welterweight crown. Elton 'The Bully' Dharry who was scheduled to face Hewley Robertson for the vacant national bantamweight title will be in action against another opponent yet to be named after Robertson sustained a shoulder injury while training on Tuesday.
VIP tickets will cost $10,000 while ringside and outer ringside will cost $5000 and $2500 respectively.
Bell time is 20:00hrs.
Around the Web