Tournament favourites of the Scotiabank/Pepsi Schools Football Academy, Tucville Secondary was beaten 6-2 by Charlestown Secondary's male team yesterday at the Ministry of Education Sports Complex ground, Carifesta Avenue.
Charlestown Secondary were led by Samuel Mitchell who scored a hat trick while Shawn Spencer, Ixos Da Silva and Anthony Bartholomew were the other goal scorers.
Tucville's goal scorers were Keifer Brandt in the 14th minute and  Sherwin Reid.
Meanwhile, New Campbellville Secondary female team defeated Tutorial High School 1-nil in the final game of the day. Cindy McPherson, 'All Star Player' from last year's academy scored the winning goal in the fifth minute from the top of the box. Mackenzie High School's male team continued to show great form in the tournament in the Linden leg, defeating Wisburg Secondary School 3-1 at the Wisburg Secondary School ground.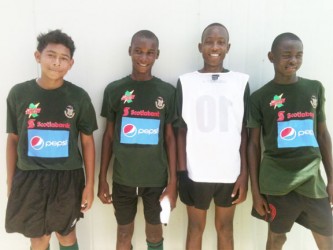 In Berbice, Berbice High defeated Vryman's Erven by 3 goals to 1 in a male game. Demetry Thom, Mustafa Nicholson and Shomar Arrindale scored in the twenty-second minute, forty-sixth minute and forty-eight minute respectively for Berbice High while  Christoper Alli scored the lone goal for Vryman's Erven.  In the second game Tutorial Academy defeated Canje Secondary 1-0 through a Joshua Butts goal in the twenty-ninth minute while in the female game,
Berbice Educational Institute (BEI) edged out New Amsterdam Multilateral by 2 goals to 1. Ayana Kellman and Latisha Leatch netted for BEI in the thirty-fifth and thirty-seventh minutes respectively while New Amsterdam goal was scored by Aicia Trim in the nineteenth minute.
A double header is schedule for today at 11:00hrs at the Ministry of Education Sports Complex, Carifesta Avenue with Chase Academy Foundation against St George's in the first game and School of the Nations and North Georgetown Secondary in the second.
Around the Web