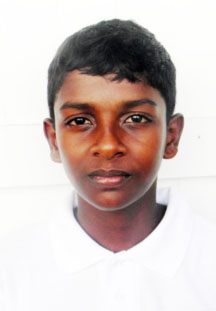 The Demerara Under-15 Cricket team yesterday took control of their Match against the President's XI on the opening day of the Guyana Cricket Board (GCB)/Limacol Cup 2013 Inter-County U-15 tournament at the Everest Sports Club Ground.
Batting first Demerara amassed 198 for 3 with skipper Bhaskar Yadram stranded on 99 not out.
They then dismissed the President's XI for 60 before reaching 43/1 in their second innings.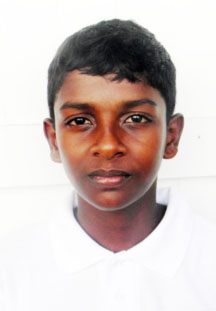 Batting first, Demerara owed their eventual total to an unbeaten 99 from skipper Bhaskar Yadram.
Yadram faced 104 balls in his knock and struck 12 boundaries. He received  support from batsman Ronaldo Mohamed who scored 43. The two put on a third wicket partnership stand of 78.
The President's XI fielders dropped several catches and there were also numerous misfields on which the Demerara batsmen capitalized.
Opener Raymond Perez led the President's XI chase scoring a confident 25 before he was stumped in the 11th over. After the departure of Perez the President's XI batsmen never got going and were rattled out for 60 in 29.3 overs with leg spinner Sagar Hathairaman bagging five wickets for seven runs from 7.3 overs. He was well supported by National U-15 player Colin Barlow and Ashmead Nedd who grabbed two wickets each.
At stumps, Demerara were 43/1 for an overall lead of 181. Yadram continued his form in the second innings with 28 not out.
At the Enmore Community Center Ground, Berbice came back to grab first innings points after being skittled out for 97 in 37 overs by Essequibo,
Adrian Sukwah top scored with 29 and was supported by Matthew Hardial who struck 23.
Bowling for Essequibo Bhisham Moses snatched 4 for 13 while Christopher Latchman picked up 3 for 34.
Essequibo, in reply, crumbled to 72 all out from 37 overs. Christopher Latchman 21 and Mark Williams 11 were the only significant scorers.
The wicket-takers were Joel Sataram who grabbed 4 wickets for 15 runs and Joshua Harrichand who bagged 3 for 23.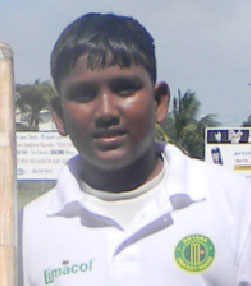 Earlier in the day New Guyana Pharmaceutical Company Incorporated (GPC Inc.) managers and executives representing the Guyana Cricket Boar opened the competition by meeting the two teams at the Everest Sports Club.
New GPC marketing manager Trevor Bassoo challenged the players to give their best and be disciplined at the same time while GCB secretary Anand Sanasie thanked the sponsors for their commitment and wished the players all the best.
The action continues today at the same venues.
Around the Web