Alonzo Greaves yesterday dominated the Roraima Bikers Club (RBC) and Caribbean International Distributors Incorporated, inaugural 10-race cycle meet.
On a breezy day at the Seawall Bandstand, the national cyclist blew away the competition and stormed to three victories in the three events he entered including the feature 30-lap event in which he never trailed.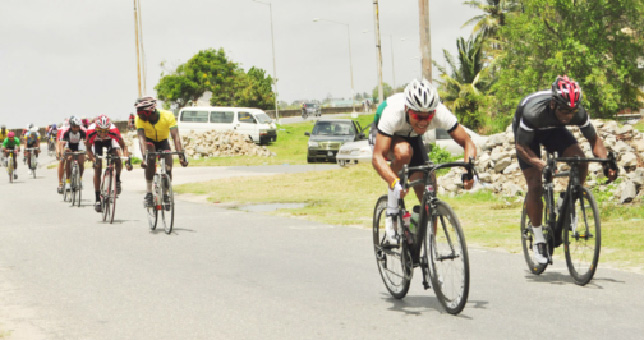 Greaves, who won the main event in one hour, seven minutes and 22 seconds ahead the improving Hamzah Eastman and Linder, Rastaff O'Selmo, also took pole position in the Win and Out and the Points races.
He also pocketed four of the 10 sprint prizes that were up for grabs. Three apiece went to Eastman and O'Selmo.
Orville Hinds, Horace Burrowes and Andrew Reece finished fourth, fifth and sixth respectively.
The feature event pedaled off at a fever pitch pace with Greaves, O'Selmo, John Charles and Eastman taking it to rest of the starters from the first lap.
The four leaders would ride as a team for the next 15 laps holding off the chase peloton that included Raynauth Jeffrey, Jude Bentley, Robin Persaud and other national riders.
At lap 16, an exhausted Charles was dropped and four became three.
Greaves, O'Selmo and Eastman however, continued to work as a team and rode together until the final 200 metres.
At this point team work was thrown out the window after Eastman rose from his saddle and started to sprint.
As expected, however, in-form Greaves responded and used his superior sprinting ability to blow by Eastman to claim his seventh feature win of the season.
Other winners at yesterday's meet were Hinds (Category One to Three, Five- lap event),
Junior Niles (Veteran's Under-50 Years), Virgil Jones (Veteran's Over 50 Years), Julio Melville (Mountain Bikes Open), Cravis Jeffrey (12-14 Years Juveniles and Females), Raul Leal (Juniors/ Category Four) and Raphael Leung (BMX Open).
According to president of the RBC, Brian Allen, the event was a huge success.
Around the Web