By Juanita Hooper
This year's Digicel Schools Football Championship which is scheduled to commence in June should be better than previous years as technical and tactical assistance is being offered to coaches and teachers who are responsible for many of the schools in the 10 administrative regions.
This was disclosed yesterday at the conclusion of a two-day workshop held at Digicel's Kingston branch.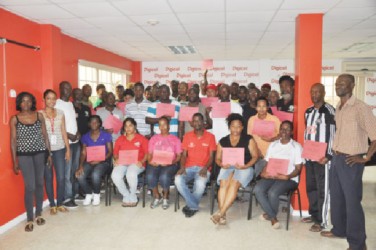 The coaches/teachers received their certificates yesterday evening when the 'Kickstart workshop' which included theoretical and practical sessions, concluded.
The workshop, which attracted participants from most of the administrative regions, will go hand-in-hand with the championships scheduled for June.
Three years ago the telecommunications giant, Digicel, made the commitment towards the development of football for students across the nation and sent Lyndon France, Technical Director of the Digicel's Kickstart training programme, to Trinidad to participate in the Digicel Kickstart clinic where he was trained by coaches from Chelsea Football Club out of Fulham, London.
"We looked at the countries that were doing well at the senior level and one of the things that all of the countries had in common was a very strong junior or schools' programme," said France yesterday.
France said Digicel estimated that improvement would come after a period of 10 years adding that Digicel's schools' football programme alone cannot spearhead such an achievement.
"We are now seeing a lot of other tournaments, the Milo competition, Scotiabank/Pepsi competition coming as well to help get the students involved but I think we still need to have maybe some more co-ordination in how we all are going to work together to achieve it at the schools' level," he said.
"Over a number of years we would have hoped that whether it is 120 or 130 schools in the tournament, each one would have at least one person that is dedicated to improving the standard of football in that school," France declared.
Lavern Fraser-Thomas, Technical Co-ordinator of the Digicel's Schools football championships said development was not possible without training adding that Digicel saw it necessary to ensure that training was a part of the programme.
"It is with this set in mind that Digicel took the opportunity when it was unfolded to have Lyndon France, the Technical Director of the Guyana Football Federation (GFF) participate in a programme (in Trinidad and Tobago) where he can then come and impart the knowledge to persons in Guyana.
Fraser-Thomas said that she was happy that most of the regions were represented.
"We only have, I think one region missing and that was unavoidable but it is a good start and we are hoping that the next time we have a programme like this to have everyone here."
Around the Web