Top seed Anthony Downes edged second seed Jeremy Miller 5-7 6-0 10-8 to win the men's singles title when the Guyana Lawn Tennis Association Assuria Invitational concluded at the National Racquet Center, Woolford Avenue on Sunday.
Conceding a closely fought first set by a 5-7 score line, Downes would respond empathically to take the second set 6-0, setting up an eagerly anticipated tiebreak decider with the winner being the first person to reach 10 points.
Facing defeat with the score at 8-5, Miller would pull within a point of Downes taking three out of the next four points to bring the score to 8-9. Miller's valiant attempt at a comeback would prove to be a bridge too far as the persistent Downes closed out the contest 10-8. With the win Downes secured his second consecutive tournament triumph in addition to the 2012 Pegasus Open.
Assured of the men's Over 35 crown following his hard fought victory over Godfrey Lowden by a 6-3 7-6 (7-2) margin, top seed Carlos Adams continued his perfect record of four wins in as many games, defeating Mario Niamatali by a 6-2 6-3 score line to complete the sweep of the division.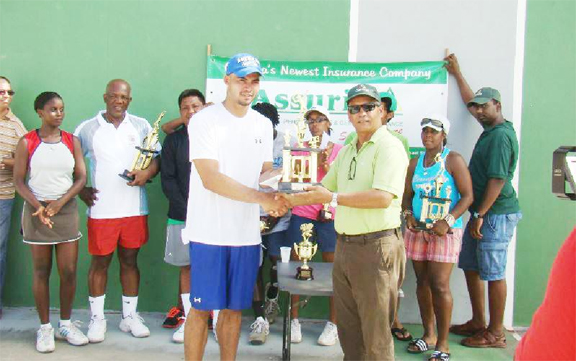 In the women's division, top seed and Guyana's number one Carol Humphrey finished with a perfect two and zero record to take the title, beating Shawna Gentle in their match up with the latter retiring due to heat related complications. Prior to Gentle's forced retirement; Humphrey had won the first set by a 6-1 margin. Gentle finished the tournament with a 1-1 record defeating Nicola Ramdyhan 6-1 6-4 in straight sets to take the runner up position.  President of the GTA Ramesh Seebarran said that he was impressed with the tournament and the way it ran and mentioned that tournaments depended on sponsors and with that he thanked Assuria for their support.
Seebarran pleaded with the players to be more prompt when playing tournaments noting that players were late for scheduled matches without any prior notification. Sponsors Assuria confirmed that this tournament would be a regular feature on the tennis calendar. The next tournament scheduled is the Guyana Bank for Trade and Industry (GBTI) championship which is tentatively scheduled for July.
Around the Web