Following Saturday's President's versus Vice President's 15s rugby match, 47 players have been shortlisted to be involved in skills and fitness training programmes commencing today at the National Park's rugby field.
According to a release sent out by the Guyana Rugby Football Union (GRFU), the players have been shortlisted to represent Guyana in its NACRA senior men's 15s Caribbean championships home game against Barbados on May 18.
Training days will be Tuesdays, Wednesdays, Thursdays, Saturdays and Sundays starting from 16:30hrs.  All players must be in the park from 16:00hrs.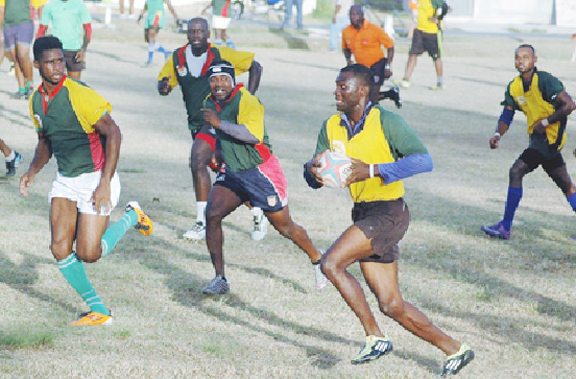 Newly elected president of the GRFU, Peter Green, addressed the players after Saturday's games and stated that he wanted his term to be very useful and as such players have to realize that they are Guyanese first and foremost playing for their country, team and then themselves.
He noted that the sport of rugby has fallen behind and his mission is to push rugby back into the spotlight. Green told the players that they have to use a combination of their skills and knowledge to play the game and the coaches and team members must function as a unit and communicate with each other as well.
The Vice president's squad defeated their counterparts 17-12 on Saturday.
The shortlisted players are as follows: Cyon Kitt, Delroy Gordon, Rondell Mc Arthur, Dwayne Schroeder, Kevon David, Rickford Cummings, Daniel Anderson, Clive Prowell, Ryan Gonsalves, Christopher Singh, Breon Walks, Jaryl Moore, Claudius Butts, Rodwell Hutson, Lance Adonis, Jamal Angus, Kevin Joseph, Ato Talbot, Troyton Braithwaite, Osei McKenzie , Claude Alexander, Marvin Stephens, Allien Crawford, Ke
ifer Lopes, Walter George, Jaryl Archibald, Terrence Daniels, Ryan Dey, Jason Tyrell, Akeem Fraser, Peabo Hamilton, Troy Bascome,  Elwin Chase, Godfrey Broomes, Carl Lewis,Leon Greaves, Troy Arjoon, Jason Ridley, Grantley Williams, Blaise Bailey, Andrew Jarvis, Avery Corbin, Peter Bistol, Kenroy Evening, Marvin Lawrence, Orin Williams and Clinton Mars.
The squad will be depleted to 22 players as training continues.
Around the Web