Heavy morning showers rendered Sunday's second day's play of the  Georgetown Cricket Association two-day final between Police Sports Club (PSC) and the Georgetown Cricket Club (GCC) into a one hour fight for survival resulting in PSC claiming the 2012-2013 Noble House Seafood's second division title at the Georgetown Cricket Club ground, Bourda.
In all 290 minutes were lost on the final day with play only starting at 3:53 pm.
Under the rules of the tournament, which are likely to be revisited, PSC were adjudged winners of the tournament by virtue of having more outright wins in the group stage of the tournament despite the fact that GCC finishing with more points.
After scoring 321 on day one, GCC would have fancied their chances of at least gaining first innings points, but instead had to settle for second place in the tournament as Police safely negotiated 19 overs, although they were shakily placed at 39/4.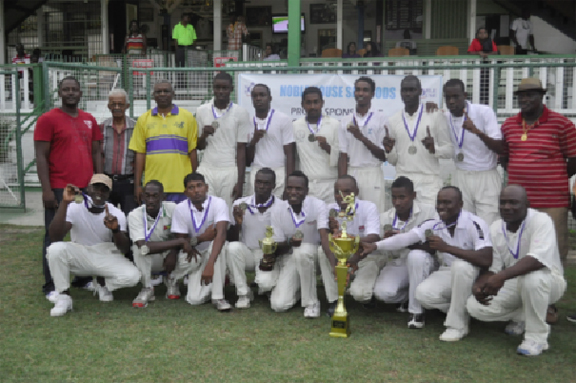 Cleon Critchlow removed Ameer Mohamed for one in the third over with a smart catch from wicketkeeper Martin Pestano-Belle.
GCC should have had a second wicket, but Manny Forde failed to hold on to a regulation chance at mid off when Troy Benn attempted to loft Devon Lord.
Despite a few plays-and-misses and airy shots, Benn and Pernell London were able to blunt the attack for seven overs until Benn (11) ran out of luck when he edged Almando Doman to slip, where Treon Forde safely completed the catch to make the score 27/2.  That became 27/3 when semi final centurion Randolph Knight was bowled by Doman without scoring.  London soon edged Lord behind for 18 at 35/4.
In rapidly fading light Sheldon Agard and Eric Angel safely negated the four remaining overs from Doman and Lord as Police closed on 39/4 in 19 overs at the close of play. Doman finished with 2 for 9 from six  overs, Lord one for eight from six and Critchlow one for 12 as GCC were left regretting the time lost.  At the presentation ceremony Clive Lloyd complimented the players for their demeanour throughout the match and said that it was heartening to see the patience shown by the batsmen. PSC's Randolph Knights was awarded MVP of the tournament while Forde was named Man-of-the-Match for his first innings 86.
Around the Web