Corporate giants Courts Guyana Incorporated continued its commitment towards the development of boxing by donating a cheque valued eight hundred thousand dollars to the Guyana Boxing Board of Control (GBBC) at a simple presentation ceremony at their Main Street Branch Georgetown for the upcoming promotional fight card `Fire Storm'.
Present at the ceremony were a few executives of the company inclusive of Kester Abrams, Public Relations Officer (PRO), Clyde De Haas, Managing Director and Pamela Humphrey, General Manager, along with Peter Abdool President of Guyana Boxing Board of Control and Guyanese boxers Clyde Atwell and Howard Eastman.
Abdool, during brief remarks, said:"This is the fourth year that Courts has thrown its weight behind the sport and they have become an essential sponsor. I am grateful for the continued support that we have been receiving for fire Storm."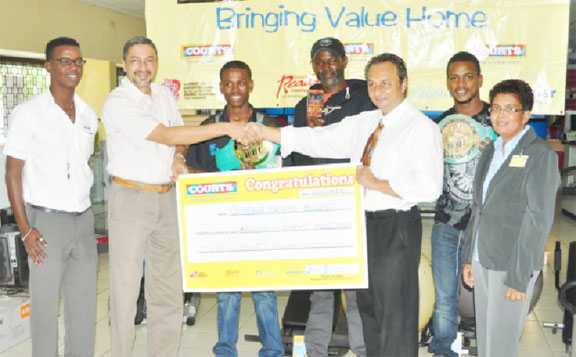 De Haas in reply said:"We are proud to be a sponsor of this big bout. We are also proud of our association with regards to the development of boxing in Guyana.
"We need to continue the hard work in churning out top class boxers in the country. In closing I would like to say to the boxers, let your fists do the talking."
Atwell briefly said:"The Fire Storm card will be exciting and I urge everyone to come out and support the guys and continue to help develop the sport in our country."
His counterpart, veteran boxing champion `Battersea Bomber' Eastman said "I am happy to be part of the card and the entire promotion and I will let my fists do the talking."
The Fire Storm Promotion takes place on Saturday at the Princess Hotel Providence from 7:00pm.