The 16th annual Scotiabank golf tournament is set to take place April 27.
This was disclosed on Monday at the tournament's launch at the Bank's Robb Street location. Scotiabank's Manager, Brian Hackett, who is one of the country's top golfers, said at the launch that sponsorship for the tournament is geared towards fees and charity donations for the tournament's Bright Future Programme."
This year marks the second consecutive year that Scotiabank will be making donations towards children's charity.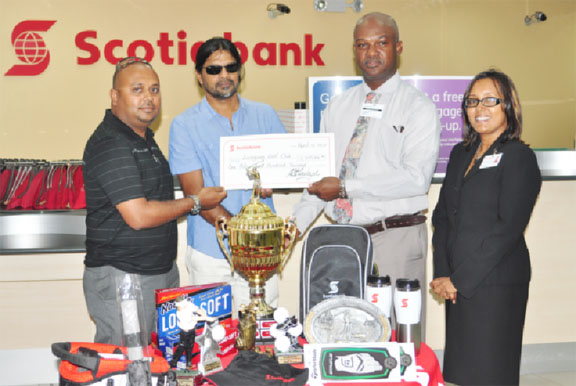 The donations will be done on behalf of the three top players of the tournament who will have the opportunity to choose a charity of their choice.  The donation towards charity falls under the bank's "Bright Future Programme."
The cash donations are $150,000, $100,000 and $75,000.
David Mohamed, vice-president of Lusignan Golf Club said:"Scotiabank has been a premier sponsor of the sport throughout the years. All the golfers look forward to the Scotia bank tournament. At least 40 golfers are lined up to participate," he said adding that the club was grateful to the bank for throwing their support behind the tournament.
Yog Mahadeo, secretary of the Lusignan Golf Club, said: "I would like to express heart-filled thanks towards Scotia bank and its support toward the sport. I hope this increases a partnership between the club, the bank and Guyana," he added.
Around the Web