(SportsDirect) – Carmelo Anthony scored 26 points as the visiting New York Knicks took a commanding 3-0 lead in the Eastern Conference playoff series against Boston winning 90-76 Friday night and coming within one game of sweeping their Eastern Conference rivals.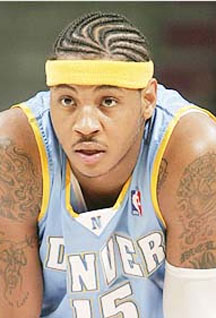 Raymond Felton had 15 points and 10 assists and J.R. Smith added 15 points before he was ejected in the fourth quarter as the second-seeded Knicks moved within a win of a series sweep.
Game Four in the best-of-seven series is today in Boston.
Jeff Green scored 21 points and Paul Pierce added 17 for the Celtics, who came out surprisingly flat following a pre-game ceremony in which the team honored local police and first responders of the Boston Marathon bombing.
Tim Duncan had 26 points and nine rebounds as San Antonio took a commanding 3-0 lead and handed injury-depleted Los Angeles its worst home playoff loss in franchise history with a 120-89 points victory.
Tony Parker added 20 points and seven assists as the Spurs took control early and put themselves in position to sweep the series in today's Game 4 in Los Angeles.
The Lakers have not been swept in the first round of the playoffs since 1967.
Dwight Howard had 25 points and 11 rebounds, Pau Gasol had a triple-double with 11 points, 13 rebounds and 10 assists and second-year guards Darius Morris and Andrew Goudelock scored 24 and 20 points, respectively, for the Lakers, who were forced to play without their top four backcourt players.
In addition to Kobe Bryant (Achilles), the Lakers were missing guards Steve Nash (back/hamstring), Steve Blake (hamstring) and Jodie Meeks (ankle).
Duncan, who turned 37 on Thursday, finished 12-of-16 and San Antonio shot a blistering 61.2 percent.
Stephen Curry shook off a left ankle injury and collected 29 points and 11 assists to lead host Golden State to a 2-1 series lead over Denver with a 110-108 win.
Jarrett Jack added 23 points and Harrison Barnes and Carl Landry scored 19 apiece as the Warriors won their first home playoff game since 2007. They will try to take a 3-1 lead in the best-of-seven series today.
Ty Lawson recorded 35 points and 10 assists but had a crucial turnover in the final seconds as the Nuggets fell short. Corey Brewer scored 16 points and Kenneth Faried chipped in 15 in the setback.
Around the Web