President of Pepsi Sonics Basketball Club and former national women's player Merle Chalmers-Casey said that the club's Hoop Fest 2013 held at the National Gymnasium, Mandela Avenue yesterday was held in an effort to  facilitate the development of the sport.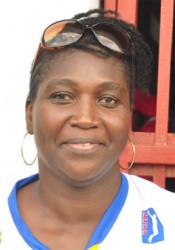 Speaking to Stabroek Sport at the Mandela Avenue locale, Chalmers posited that the inaugural project, in collaboration with Automotive Essentials, is a spin off to the sixth annual Pepsi Sonics Easter Basketball fundamental clinic which was held March 25.
The Hoop Fest involved participants from the Easter Clinic as well as male and female teams from Kwakwani, Plaisance and Georgetown inclusive of the hosts competing in the U-14, U-17 and female divisions.
"This is a follow up to the clinic we had earlier in the year. We wanted to see what the kids would have learnt and this is the club's way of developing the game. Currently, players are going out of the sport and the young ones have to make that transition and take over," added Chalmers-Casey.
Questioned about the reception and long term plan for the programme, Chalmers-Casey stated that the initiative has been greatly received owing to the large turnout, adding that the objective is to get the youths to understand and learn the fundamentals of the sport.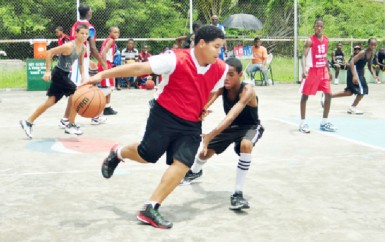 "Basketball has been suffering greatly in Guyana and this opportunity allows them the avenue to display their respective talent. So far the programme has been going greatly and I would do it every month," she declared.
During closing remarks Chalmers-Casey said:"I would like to thank all the teams for participating in the programme especially the teams from Kwakwani. "Thanks must also be extended to the sponsors Automotive Essentials for donating the winning trophy, Georgetown Amateur Basketball League (GABA), Trophy Stall, former GABA president Christopher Douglas for donating medals and Hot and Spicy and Spicy Dish for providing the meals."
Robert "Bobby" Cadogan coach of the Trinity Grid Holding (TGH) Pacesetters and co-ordinator of the Bobby Cadogan 'After School Programme,' in an invited comment stated: "This is a good idea by the Pepsi Sonics Management and it could not have come at a better time for the kids. This programme provides a platform for them to showcase their skills and I will be a part of this programme again next year."
Around the Web