-Almost halfway through their one month training stint in the high altitude country of Colombia, junior national riders Paul De Nobrega, Raynauth Jeffrey, Raul Leal and Christopher Holder say that apart, from bleeding through their noses, they have begun to notice improvements
At the midpoint of their 30-day training stint in Colombia, Junior Sportsman-of-the-Year, Paul DeNobrega, along with fellow junior national riders of the Coco's Cycling Club, Raynauth Jeffrey, Raul Leal and Christopher Holder riders have begun to notice improvement.'
"Training with professional riders has really helped us," said DeNobrega yesterday, referencing to training partners, Barbados' Darren Matthews, Brandon Wilke and Colombia's Jaime Ramirez who won last year's five-stage road race.
"We are learning to ride as a team over here. Every morning we are training together. Training with these professional riders have really helped us because it is not easy. Everyday those guys ride five to six hours in the mountains and we are hanging on with them, something we never done before.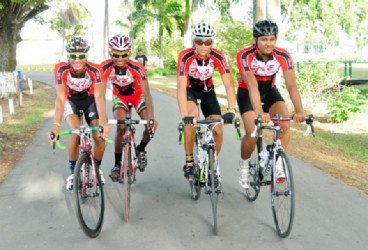 "We are climbing with them but they have the experience. They are strong but I think we have moved to a next level because when we first got here we could not climb with them and we are pacing and so on now so we have improved."
So what is a training day like?
"We wake up, have breakfast and head for the mountains," DeNobrega revealed.
"Like I said, we train five to six hours a day, six days a week. We do intervals and a lot of climbing. The terrain and the altitude are very different from Guyana. We are way higher here. We are in the clouds here so hopefully, when we get back to Guyana, we will see the improvements because the breathing is really hard because sometimes I bleed through my nose because we are way, above sea level."
DeNobrega added:"We have 14  more days more and hopefully we can get more benefits out of the days we have here and when we get back we will be bringing our training partners Jaime, Darren and Brandon with us for the three-stage."
The three-stage event pedals off on May 18.
The move is the first of many overseas training and competition stints geared towards the young riders evolving into competitive cyclists on the world stage.
Since owner Ian 'QB' Davis assembled the local version of the Miami-based club, DeNobrega, Jeffrey, Leal and other Team Coco's riders have been very successful.
DeNobrega placed second in the grueling five-stage road race and copped a gold medal at the Junior Caribbean Cycling Championships in the Dominican Republic.
Fellow club member, 16-year-old Michael Anthony also copped a gold medal at the games and would have been training in Colombia had it not been for his upcoming CXC exams.
The trio of Jeffrey, DeNobrega and Leal won five of the 10 events staged by National Cycling Coach, Hassan Mohamed in the first quarter of the season.
Around the Web