(SportsDirect) – LeBron James had 30 points, eight rebounds and seven assists and visiting Miami pulled away in the fourth quarter to complete a four-game series sweep of Milwaukee winning Sunday's fourth game 88-77.
Ray Allen scored 16 points off the bench and Udonis Haslem added 13 as the reigning NBA champions rolled into the Eastern Conference semi-finals despite playing without All Star guard Dwyane Wade, who sat out with an ailing knee.
The Heat will play either Chicago or Brooklyn in the next round.
Monta Ellis scored 21 points and Mike Dunleavy chipped in 17 for the eighth-seeded Bucks, who followed the script of the previous two games by staying close through three quarters before the top-seeded Heat turned on the jets.
Miami led by as many as 11 points in the second quarter but Ellis scored seven straight points as Milwaukee cut the deficit to 45-41 at the half. The Bucks were within five at the end of three quarters and trailed by two with 9 1/2 minutes to play when the Heat delivered the knockout blows.
Allen buried a pair of three-pointers and Mario Chalmers and Shane Battier each connected from long range before James capped a 19-5 burst with a conventional three-point play to extend the lead to 86-72 with 4:54 remaining.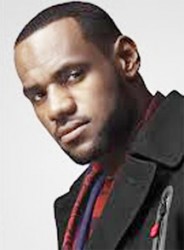 In Boston, reserve Jason Terry scored nine of his 18 points in the final 91 seconds of overtime as hosts Boston averted a four-game sweep with a 97-90 points win despite blowing a 20-point second-half lead.
Paul Pierce scored 29 points and Jeff Green added 26 as the Celtics fought off a stirring comeback to force Game Five of the best-of-seven Eastern Conference series on Wednesday at New York's Madison Square Garden.
Kevin Garnett added 13 points and 17 rebounds for Boston.
Carmelo Anthony scored 36 points and Raymond Felton had 27 for the Knicks, who led only once – at 84-82 with 1:18 to play in regulation – and trailed 59-39 with 9:25 left in the third quarter.
Terry put the Celtics ahead to stay by burying a three-pointer with 1:31 left in the extra session. After Anthony sliced the deficit to one, Terry hit a short jumper and buried two foul shots for a 95-90 edge with 20.4 seconds left.
Pierce scored eight points in a 73-second span late in the second quarter to help send the Celtics into the break with a seemingly commanding 54-35 lead. A three-pointer by Green pushed it to 20 early in the third quarter before Felton scored 16 points in a 26-9 burst to pull New York within 68-65 entering the final 12 minutes.
The Knicks played without Sixth Man of the Year J.R. Smith, who was suspended one game by the NBA for elbowing Terry in the face in the fourth quarter of Game Three.
At Staples Centre, Tony Parker scored 23 points and visiting San Antonio routed Los Angeles 103-82  to complete a four-game sweep of the Western Conference playoff series. Kawhi Leonard and DeJuan Blair scored 13 points apiece and Tim Duncan added 11 as the Spurs broke the game open early and sent the Lakers to their first opening-round postseason sweep since 1967.
Second-seeded San Antonio will face Denver or Golden State in the next round.
The injury-depleted Lakers, already missing their top four guards and starting forward Metta World Peace, went down meekly and saw center Dwight Howard ejected after picking up his second technical foul for arguing a non-call in the opening minutes of the third quarter.
Pau Gasol scored 16 points and Andrew Goudelock added 14 for Los Angeles.
The Spurs allowed the Lakers to hang around for the first quarter, leading by eight, but Gary Neal came off the bench and knocked down a pair of three-pointers in a personal 8-0 run to put San Antonio ahead by 14 en route to a 52-34 halftime edge.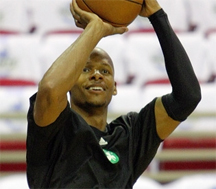 The Spurs had only three turnovers in the first half compared to 16 for Los Angeles.
Stephen Curry took over in the third quarter and finished with 31 points and seven assists as host Golden State took a 3-1 lead over Denver in the best-of-seven series with a 115-101 win.
Curry hit six three-pointers and went 10-for-16 from the field for the Warriors, who will try to close out the series at Denver on Tuesday. Jarrett Jack added 21 points and nine assists and Carl Landry scored 17 off the bench.
Ty Lawson scored 26 points and Andre Iguodala had 19 for the Nuggets, who committed 23 turnovers leading to 33 points. Denver has allowed an average of 118.7 points in the last three games – all losses.
Around the Web