Silent Assassins upset TLC Shipping Russians 1-0 to book their berth in the final when the semi-final round of the Guinness Greatest of the Streets Linden segment concluded on Monday at the Wisroc/Amelia's Ward Bus Park.
Following a hard-fought, first-half, Silent Assassins broke the resulting deadlock with the winning goal in the 26th minute compliments of a Quacy Johnson effort.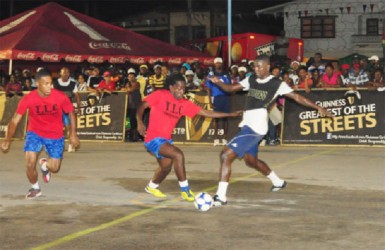 In the other semi-final encounter, Silver Bullets, through a Robin Adams second half 25th minute conversion, needled Half Mile/One Mile 1-0 to book their place in the final which is set for today at the Wisroc/Amelia's Ward Bus Park.
In the third place playoff, TLC Shipping Russians will engage Half Mile / One Mile in the third place play off.
Around the Web