Silver Bullets were crowned the Guinness Greatest of the Streets Linden Edition Champions compliments of a second half brace by Damion Williams, as they shot down Silent Assassins 4-0 in the grand finale held on Wednesday last at the Wisroc/Amelia's Ward Bus Park.
Taking the lead through a Robin Adams first half conversion in the twelfth minute, Williams consolidated Silver Bullets' already advantageous position compliments of a twentieth-minute strike.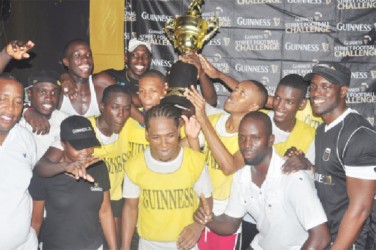 Williams further solidified his team's standing when he converted three minutes later in the twenty-third minute to put the game effectively beyond the reach of Silent Assassins. Nigel Bennette scored in the twenty-fourth minute to complete the rout.
In the third place encounter, Half Mile/One Mile through an Andre Chester hat-trick needled TLC Shipping Russians 3-2.
Following Terrence Aaron's first-minute conversion, Chester restored parity to the proceedings for Half Mile/One Mile, compliments of a thirteenth-minute strike. Buoyed by his recent scoring success, Chester gave his team the lead early in the second half through a sixteenth-minute effort.
Not willing to go down without a fight, TLC Shipping Russians eventually levelled the affair through a Shawn Daniels effort in the twenty-fourth minute. With the game set up beautifully for a tense finish, Chester once again stole the show, breaking TLC Shipping Russians' hearts with a twenty-sixth minute strike to seal the win for his side.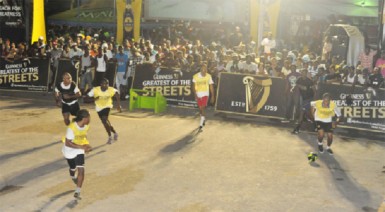 Around the Web