Eight teams kept their five alive while their opponents were sent packing when the third annual Mackeson 'Keep Your Five Alive' knockout football competition kicked off Wednesday night at California Square, East Ruimveldt.
In front of a large and vocal crowd in the football crazed community, Liliendaal set the tone for a pulsating night of football, drubbing East Dam 3-nil.
Anthony Sancho scored the opening goal for this year's tournament in the fifth minute for the East Coast side, while Akeem Saul's double in the 10th   and 14th minutes padded the scoreline.
In the second game, the Wolves from Sophia also recorded a 3-nil victory and sent the ballers from Lodge Housing Scheme home. Collin Kendall's double (eighth and 10th minute) that sandwiched Ray Cole's strike (ninth minute) were enough to propel them to the next round.
West Front Road by virtue of penalty kicks advanced to the next round after their game with Ben Corton (West) ended in a nil-all stalemate.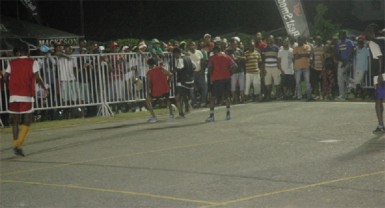 Albouystown 'A' and Laing Avenue also advanced to the next round on penalty kicks. Their marksmen shot down Globe Yard and California's team respectively.
Castello Housing Scheme edged King Street Ballers 2-1 with Sherwin Anthony netting in the fifth minute and Marvin Fraser netting in the fifth and 15th minutes respectively for Castello.
Kevon Solomon's solitary strike in the ninth minute was all Broad Street needed to secure a win against East Front Road.
Tiger Bay 'A' mauled Norton Street 5-nil with Jamaal Blackman recording a hat-trick. He netted in the sixth, seventh and eighth minutes, while Alpha Fletchman's 11th-minute strike and Devon Dickson's goal one minute later closed the first night of the competition.
The winner of this year's Mackeson 'Keep Your Five Alive' Street Football tournament under the theme: "Your skill, your style, your five, your stout" will pocket $300,000 and a trophy. The second place team will cart off half that amount and trophy.
Eight more teams will look to keep their five alive when the competition continues tomorrow night at Punt Trench, School Street, Albouystown.
The duration of the games are 15 minutes that is divided into two 7½-minute halves with no extra time in the preliminary round.
Around the Web