Four up and coming junior tennis players  were expected to depart Guyana yesterday morning accompanied by national coach Shelly Daly-Ramdyhan for Antigua where they will participate in the Antigua Junior 12 and under Invitational Tennis Tournament that takes place today and tomorrow.
Shivani Persaud, Afruica Gentle, Keenan Persaud and Jordan Beaton are the  four players selected from nine players who were shortlisted for training for the event.
The players earned their spots on the team following a decisive competition that weeded the team down to the final four.
Stabroek Sports caught up with the players and coach earlier this week as the team tapered its training preparation at the courts of the National Racquet Centre on Woolford Avenue. All four players are seasoned competitors and, with the exception of Keenan Persaud, all have participated in other regional competitions outside of Guyana. The oldest and most experienced of the four, Gentle, will undoubtedly be the `veteran' of the group.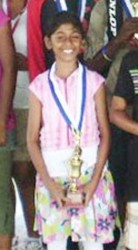 According to Daly-Ramdyhan much will be expected from the 12-year-old who has been playing the game since she was four years old. Gentle will be playing in the singles event.
"Out of the four players Keenan Persaud would've been the only player that never travelled. Afruica is the most experienced player out of the set, so a lot is expected of her. With the other three players, we expect them to perform really good because I think, personally, that they are really strong," the junior development coach said.
Meanwhile the Academy of Apex Education first form student commented that she still needs to work on her mental power both on and off the court.
"[You] can't be too over confident but I think I might do well. I think I need to work more on my thinking and my game plan [on the court]," Gentle declared.
Sister of former girls' junior number one Shawna Gentle, Afruica played for the first time outside of Guyana when she was part of the team that travelled to Suriname to participate in a junior competition that later became the Inter-Guiana Tennis Tournament.
Gentle has travelled to Suriname each year since to participate in the competition. Additionally, last year Gentle also participated in a competition in Trinidad and Tobago.
Also participating in that  category will be Shivani Persaud who also has a lot of experience under her belt. Shivani has been on the tennis scene since she was seven-years-old and participated in Suriname twice in 2011 and 2012. "I don't know how the players are going to be. I think I'll do well. I'm not sure but I will try my best," a cheery Shivani said about her expected performance this weekend.
For 11-year-old Keenan Persaud it will be all about gaining experience. Ahead of his debut at a regional competition Keenan says he thinks he's quite prepared.
"I will try to perform my best. I don't know how they will play because this is my first tournament so at least I will try to get a feel of it. "Over here [locally] I play well, I'm hoping to play the same or even better in Antigua. It might be harder but as I said I'll try. I feel prepared enough but I think I need to work on my serve," Keenan added.
Beaton said he expects the competition to be somewhat tough.  "I expect it to be pretty challenging, but I hope to pull through. I'll expect the players to be a little bit difficult," Beaton said.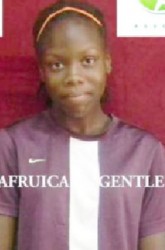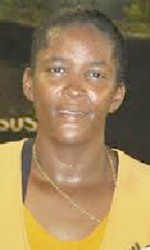 Notwithstanding the players' capabilities, Ramdyhan noted that the players can expect to come up against several challenges at this competition.
"A disadvantage I know that they will have is the level of competition. Playing against players they've never played with before and being on better surfaces, those are some of the challenges that I know they will have. And it's a really short tournament, that's another little disadvantage for them. They will need to get familiar with the facilities very, very quick, normally will take a few days to get familiar with surface, conditions and all that but this will be a quick adjustment for them, we're hoping that they can handle that in the short space of time," Ramdyhan stated.
Players from approximately eight countries across the Caribbean are expected to take part in the tournament. According to Ramdyhan, the competition is expected to follow a round robin format with a qualifying round today and the finals tomorrow. The players are expected to return on Monday afternoon.
Around the Web