The Annual Muneshwar's Hardware Medal Play golf tournament will tee off today at the Lusignan Golf Club (LGC) from 12:30 hours.
Jerome Khan, President of the LGC says a large field is expected to compete in the tournament sponsored by devoted golfer Robert Hanoman who will be among the starters.
Previous winners include Hanoman, Mike Gayadin and Colin Ming and, according to Khan, the players are extremely keen to participate.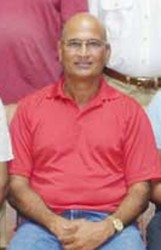 He said that despite the current inclement weather the course is in great shape.
"We are extremely pleased to announce that the course is being upgraded with a new green being built. We have also seen an increase in membership," Khan said.
Among the players expected to compete are Andre Cummings, winner of last weekend's Scotiabank Charity tournament, Patrick Prashad, Alfred Mentore, Kishan Bacchus, Mohanlall Dinnanauth, David Mohame
d, Munaff Arjune, Muntaz Haniff, Chatterpaul Deo, Troy Cadogan, Brian Hackett, William Walker, Clifford Reis, Imran Khan, Christine Sukhram, Haresh Tewari, Kassim Khan, Carlos Adams, Maurice Solomon, Dr. Ram Singh, Fazil Haniff, Mark Lashley, Dr. Philbert London, David Harry and John Tracey.
Prizes will be awarded to the top three players with best net scores. In addition, there will be nearest to the pin.
Around the Web