(SportsDirect) Stephen Curry scored 14 of his 22 points in a decisive third quarter and Andrew Bogut collected 14 points, 21 rebounds and four blocks as hosts Golden State survived a late surge and held off Denver in a 92-88 game six and win the Western Conference playoff series 4-2.
Draymond Green scored six of his 16 points during a key stretch in the fourth quarter and added 10 rebounds off the bench for the Warriors, who won their first playoff series since 2007 and will take on the No. 2 seed San Antonio Spurs in the conference semifinals.
Andre Iguodala recorded 24 points, nine rebounds and six assists and Ty Lawson scored 17 for the Nuggets. Wilson Chandler added 11 points but missed two shots from inside four feet with 12 seconds left that would have tied the game.
Denver used a 16-2 burst in the fourth quarter to trim an 18-point deficit down to 82-78 with 4:13 to play. Curry's scoop shot in the lane pushed it out to 88-79 with 2:10 left, but five turnovers in the final 1:37 and some poor offensive execution allowed the Nuggets a chance to take the lead in the final seconds.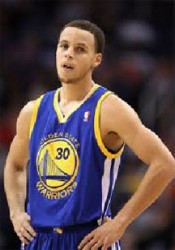 Denver controlled the offensive glass and forced 10 turnovers in the first half but only managed to take a 42-40 lead into the break. Curry went 1-for-7 from the floor in the half as Bogut kept Golden State in the game.
Curry came alive in third quarter to help the Warriors take control. The sharpshooter knocked down two free throws to tie it and then hit three pointers on back-to-back possessions to cap a 10-0 burst and put Golden State on top for good.
In Chicago, Joe Johnson, Brook Lopez and Deron Williams scored 17 points apiece as visiting Brooklyn outlasted Chicago  95-92 to even the best-of-seven Eastern Conference series at three games apiece.
Williams added 11 assists and Gerald Wallace chipped in 15 points as Brooklyn forced a Game 7 on its home floor today.
Marco Belinelli had 22 points and seven assists and Nate Robinson scored 18 points for Chicago, who were without starters Luol Deng (illness) and Kirk Hinrich (calf).
Jimmy Butler scored 17 points, Joakim Noah had 14 points and 15 rebounds and Carlos Boozer had 14 points and 13 boards for the Bulls.
The Nets had an 83-75 edge after a basket by Kris Humphries with 8:11 remaining before Chicago rallied to pull within 93-92 on a basket by Nazr Mohammed with 25.2 seconds left.
Andray Blatche hit two of four free throws to give Brooklyn a three-point lead and Noah tied up Williams with 3.6 seconds left but the Nets won the tip and Johnson ran out the clock.
Around the Web