The Wado Ryu Karate Association of Guyana continues to receive support from past students. Michael De Mendonca who resides in the United States of America has donated training equipment to his former club.
At a simple ceremony held at the Banks DIH dojo on Thursday afternoon, Dhillon, the son of De Mendonca, made a presentation of a training dummy and a punching bag on behalf of his father to Instructor Sensei Winston Dunbar.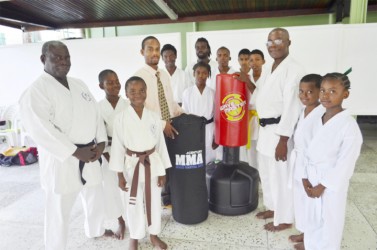 Sensei Dunbar said that the Association was extremely delighted by the kind gesture of De Mendonca who has always offered assistance to the Guyana Wado Ryu Karate Association.
Last year De Mendonca and another former student Terrence Clarke donated karate mitts and headgear to their former club.
Dunbar highlighted that the donation came at a good time as the members of the Association are now preparing for the Banks DIH sponsored National Championships which is slated to commence on June 9 at Thirst Park.
Around the Web