Guyana's rifle shooters retained the long range title while Lennox Braithwaite remains the West Indies individual shooting champion as the West Indies rifle shooting championships continued yesterday at the Paragon ranges in Barbados.
The national shooters defied tough windy conditions and fierce opposition from nemesis Jamaica, Trinidad and Tobago, Antigua/Barbuda and host Barbados to capture victory in the 900 and 1000 yards shoots with a grand total of 697 with 30 V bulls.
Guyana shot 349 with 15 Vs at 900 yards and came back to record 348 with 15 Vs at 1000 yards.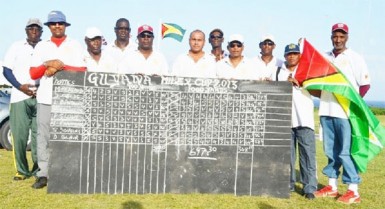 Jamaica secured the second position with 673 with 28 Vs points with Trinidad and Tobago securing 632 with 25 Vs and Antigua/Barbuda 595 with 15 Vs.
In the Individual shoot, Braithwaite retained the West Indies individual shooting title with a grand aggregate of 451 points with 44 Vs but he finished 28th overall in the international individual championship which was won by British shooter David Luckman who recorded a grand aggregate of 470.65.
Braithwaite was on fire for Guyana and proved to be the best regional shooter against some of the best international shooters from Great Britain, Australia, Canada and Channel Islands.  He shot a perfect 50.3 at 600 yards and recorded 41.2 to end with 91.5 on the final day.  National captain Mahendra Persaud was third overall among regional shooters with 442 points and 30 Vs finishing behind Trinidad and Tobago's Michael Perez who was one point behind Braithwaite with 450.44.
Norris Gomez was fourth with 439.24, Anderson Perry of Antigua/Barbuda with 438.26 fifth, National vice captain Dylan Fields sixth with 435.28 and Jamaican Jose Nunez with 435.24.
ACP retired Paul Slowe finished on 420.18 to be in the top 20 shooters from the region.
The other Guyanese grand aggregate are Ransford Goodluck 416.23, Sigmund Douglas 414.18, Charles Dean 413.18, Dane Blair 412.20, Lt. Col. Terrance Stuart 404.71 and Peter Persaud 387.10.
Rain had curtailed shooting on the third day forcing the Guyanese riflemen to return early on the final day to complete 900 yards.
The conditions proved to be detrimental as all the shooters found the lighting and wind challenging especially at 900 yards.
The West Indians shooters will be in action again today in the short range match over 300, 500 and 600 yards ranges and once again Guyana will be defending their title won last year at the Timehri ranges.
Around the Web