Charlestown Secondary and Tutorial High School ran out male and female winners respectively of the Scotiabank/Pepsi Schools football competition yesterday.
Playing at the Ministry of Education ground, Carifesta Avenue, Charlestown Secondary dethroned last year's champions Lodge Secondary beating them 2-0 while Tutorial High edged New Campbellville Secondary 1-0 in the female final.
Anthony Bartholomew and Omari James, who was later named the 'Most Goal Scorer' scored for Charlestown in the 37th and 55th minutes.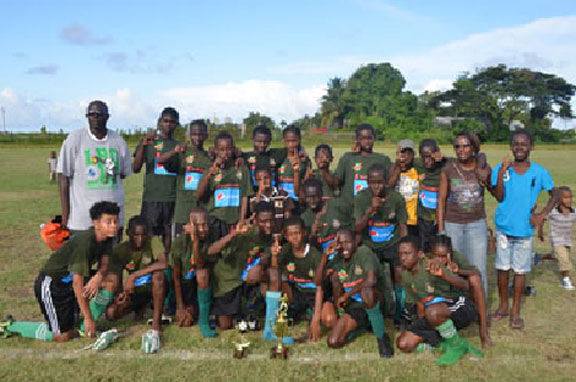 The two sides were scoreless at the end of the first quarter but
Charlestown scored their 1st goal seven minutes upon the resumption of the second half when Bartholomew found the back of the net.
Tutorial High School won the competition through a second half goal from Atavia Grosvenor in the 36 minute as New Campbellville Secondary only fielded eight players including Scotiabank/Pepsi All Star player Cindy McPherson, the tournament's highest goal scorer.
Golden Jaguars International Vurlon Mills presented the trophies to the respective winners at the simple presentation ceremony after the competition concluded.
Tutorial High and St. George's High School were runners-up in the boys 'A' and 'B' groups respectively while the best male and female goal keeper prizes went to Terron Alleyne of Queen's College and Shevia Riley of Christ Church Secondary.
The county finals between Georgetown, Berbice and Linden will kick off on Sunday at the same venue from 9:00hrs.
Georgetown side will be represented by Charlestown and Lodge Secondary in the male division and Tutorial High in the female category.
The new Scotiabank/Pepsi Schools Football Academy winners will face Berbice High School while the runners-up, Lodge Secondary, will take on Mackenzie High in another male encounter. The female games will be round-robin matches and will be played among Tutorial, Berbice High and Christiansburg Wismar Secondary.
The 2013 All Star Team is expected to be named during the course of this week.
Around the Web