PARIS, (Reuters) – David Ferrer is used to wearing the "best of the rest" label when it comes to Spanish claycourters, but today against Rafa Nadal the 31-year-old has the chance to add his name to the pantheon of greats.
The Valencia-based player has reached the French Open final without dropping a set, and on Friday produced a ruthless display of power and accuracy to torment French hope Jo-Wilfried Tsonga.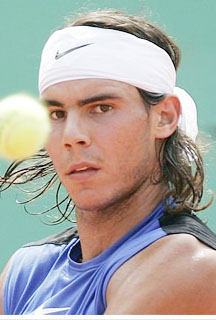 It was a magnificent performance to end a sequence of five defeats in his five
previous grand slam semi-finals, yet once again Ferrer was left in the shade by Nadal's extraordinary five-set semi-final thriller over Novak Djokovic.
For many that match was "le final" in all but name, but Nadal has too much respect for Ferrer – a player who shares his work ethic – to relax as he aims to become the first man to win the same grand slam tournament eight times.
"He didn't lose a set during the whole tournament, so he's a player that brings you to the limit," 11-times major winner Nadal – who was an unknown 15-year-old when Ferrer began his professional career in 2000 – told reporters yesterday.
"He's a player that if you are not playing perfect, you will be in big, big trouble."
The statistics do not look good for Ferrer, although he will take some heart from the fact that the last time two Spaniards met in the French Open final, in 2002, Albert Costa was the underdog but defeated Carlos Moya in four sets.
Ferrer won his first claycourt clash with Nadal in 2004. Since then he has lost 16 in a row on the surface.
Add the facts that Nadal has suffered one defeat in 59 matches at Roland Garros, has never lost any of his 13 finals against Spaniards, and is just five behind Argentine Guillermo Vilas's record of 46 career claycourt titles, and the odds are stacked against fourth-seed Ferrer.
Ferrer has arguably been unlucky in that his career has spanned an era containing some of the greatest players in the sport's history. More often than not in recent years the only players he loses to at grand slams are the top four of Djokovic, Nadal, Andy Murray and Roger Federer.
INTO SUBMISSION
He is not one to complain, though.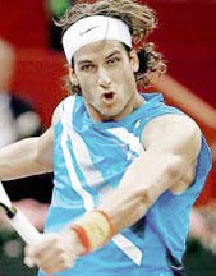 Instead he rolls up his sleeves and gets down to the business of winning tennis matches with the minimum of fuss, hustling and bustling behind the baseline and grinding most foes into submission.
Ferrer is one of the quickest players on the tour but he has other weapons, too.
He is accurate from the baseline with his economical groundstrokes off both flanks and can surprise opponents with well-disguised drop shots and an effective net game.
Ferrer's serve does not have the beef to win many cheap points, though his variety of placement allows him to set up points and dominate from the middle of the court with angled forehand and backhands.
"Any person who doesn't respect David as one of the greatest players of the world – and not for one year, for a long time – is a person that doesn't know anything about tennis," Nadal said when asked if Ferrer gets the respect he is due.
"When I read a few things about the semi-finals, Tsonga against David, people were saying was a good semi-final for Tsonga. I never felt that way. You play best of five on clay against David, it's very, very tough."
Ferrer, the third-oldest debut grand slam finalist, often talks reverentially about Nadal, and is happy to be mentioned in the same conversation.
Camaraderie will be interrupted today, though, as Ferrer attempts to capitalise on what might be his one and only chance of joining the grand slam winners' club.
"It's the opportunity of my life to be in the final," Ferrer, who has managed it in his 42nd grand slam tournament, said.
"Defeating Rafa is very difficult on any surface; it's even worse on clay. But once again, I'm going to try to play a beautiful match."
Around the Web