Guyana Football Federation (GFF) President Christopher Matthias was honoured at an Appreciation Dinner hosted by the Georgetown Football Association (GFA) for his services as the entity's previous General Secretary on Saturday June 8, 2013 at the Sleepin International Hotel, Brickdam.
Matthias during his feature address thanked the respective clubs and fellow executives of the GFA,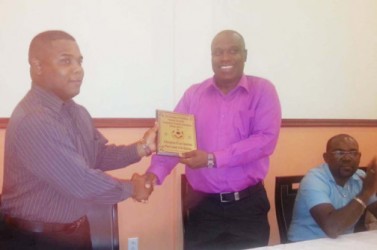 East Coast Football Association (ECFA) and Upper Demerara Football Association (UDFA) for their fearless support in the justified quest for democracy and the restoration of all fundamental rights.
"This evening I am extremely delighted. The measure of such delight however stems not from the fact that I have been chosen to be honoured by my peers this evening but from the very fact that I have been afforded the distinct and distinguished privilege of identifying and associating with those who elected to host such an occasion as this for me. Esteemed ladies and gentlemen, this evening it is on your behalf I sincerely accept this award," said Matthias.
Seen as a pivotal figure in the fight for the restitution of all essential rights of the GFA and UDFA, remarks and invited comments were made the small gathering honouring the former GFA general secretary for his stellar contributions to the association.
GFA President Vernon Burnett stated:"It's indeed a pleasure to be a part of such a simple but significant gathering. We, at the GFA, believe that individuals should be recognized for their contribution to the sport. "Thanks are not enough but we are really thankful for the contribution you have made. You will not only do the GFA proud but the entire Guyana."
Eton Moses first Vice-President of the ECFA congratulated Matthias on his elevation to the GFF presidential post while stating that he hopes that the current relationship between the GFA and ECFA which was greatly engineered by Matthias continues to flourish.
President (acting) of the West Demerara Football Association (WDFA) Nigel Garraway posited:"In regards to the relationship with Matthias and the GFA, I can't really speak much of. However, I was privileged to play under the GFA as the University of Guyana captain in a tournament that was organized by Matthias and I was very impressed how well it was administered. Congrats on your elevation, it is all deserving".
Around the Web