LONDON,  CMC – West Indies wicketkeeper Denesh Ramdin, who pleaded not guilty to a charge of misconduct laid by the International Cricket Council, has been suspended for two one day internationals (ODIs) and fined 100 per cent of his match fees.
Ramdin was charged for breaching the Code of Conduct when he claimed a catch off Misbah-ul-Haq during the Champions Trophy game against Pakistan at The Oval.
The incident took place in the ninth over of Pakistan's innings, when Misbah bottom-edged a Kemar Roach delivery to Ramdin.
"This is regarded as a serious offence as it is the responsibility of all players to act in the spirit of the game," ICC match referee Chris Broad said.
"I hope Mr Ramdin has learnt his lesson from this incident and that we will not see such behaviour by him or any player in the future."
The wicketkeeper initially appeared to have caught the ball but lost control of it as he fell forward as it slipped out of his gloves on to the grass.
Instead of bringing his mistake to the notice of the umpires or his team-mates, Ramdin returned the ball to the square-leg umpire and joined his team-mates in the celebratory huddle.
Square-leg umpire Nigel Llong, however, alerted the third umpire and the replay revealed the ball was dropped.
Misbah, who was on 0, was called back and went on to hit an unbeaten 96.
"I think he should have told them (umpires) what happened, but I don't know what he was thinking at that time. I would not be very happy if my wicketkeeper did that," said Misbah.
"If we don't know anything, then its fine, but if you know clearly that it's not a catch, you should not claim that because it's not in the spirit of the game."
The charge was laid by the on-field umpires Steve Davis and Llong, third umpire Tony Hill and fourth umpire Richard Kettleborough.
West Indies captain Dwayne Bravo, however, had defended Ramdin, saying the wicketkeeper did not act deliberately.
"Unfortunately, he did not catch it," Bravo said.
"He's a very honest player, and as I said, history shows if you check the records that we don't have any stigma or negatives around us as a team. We have been true in our cricket careers and history has shown that we play the game in true spirit of the way it should be played. I don't think we did something like this deliberately."
Ramdin has the right to appeal the decision within 24 hours to a judicial commissioner, but even if he does, the sanction will apply until the outcome of the appeal, which means he will not be able to play against India on Tuesday.
The West Indies management declined to comment on whether Ramdin would appeal the ban and fine.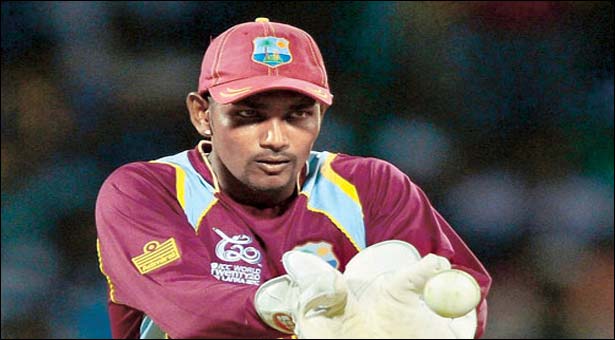 Around the Web