Changes to the Guyana Horse Racing Authority's (GHRA) draft legislation were approved and other matters concerning the 'Sport of Kings' were discussed when executives of the body convened at the Kennard's Turf Club, Bush Lot on Sunday.
According to Honorary President of the GHRA, Cecil Kennard, the changes to the draft legislation which were made upon the request of Minister of Sport Dr. Frank Anthony in the first meeting early last month were all agreed upon and the draft legislation will be presented to Dr. Anthony this week or early next week.
During a telephone interview yesterday, Kennard told this publication that they had revised two of the racing dates.
He said that the Ryan Crawford Memorial Race Meet which is scheduled to be run off on July 1 will now be staged on July 14 and added that the Kennard's Memorial Race Meet which is scheduled for August 4 will be brought forward to August 1 to avoid clashing with the Caribbean Premier League (CPL) T20 cricket match at the Providence National Stadium which is also sponsored by Digicel.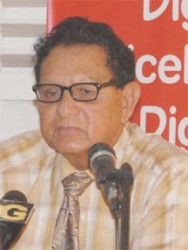 Finalising the classification of horses which was a topic on Sunday's agenda will be further discussed tomorrow because, according to Kennard, an important member was unavoidably absent.
The GHRA Honorary President also told Stabroek Sport that the jockeys were given up to July 14 to pay their subscriptions.
Some of the changes of the Guyana Horse Racing Authority Act which will allow the sport to run more effectively and to deal with violators include: elevating the number of the Racing Authority's members from nine to 15, including the Bush Lot United Turf Club as a member of the GHRA and implementing a term (two years) for the members of the Authority.
The other change also includes giving the GHRA the power to schedule race dates for race meetings in the event that a club is unable to run off a race meeting.
After the meeting with Dr. Anthony last month, Kennard told Stabroek Sport that: "The minister was very receptive and the main topic on the agenda was the draft legislation for the racing authority".
"Legislation would give us (GHRA) more authority to deal with infringements like doping because we will be authorized to penalize owners and trainers if they are found to be doping their horses and other violations.
Around the Web