Orlando Dublin and Shawnell Warner put on an unforgettable, award winning display of graceful muscle poses to capture top honours in the mixed pairs competition when the fourth Fitness Paradise Championships and Gym Awards was held  at the Theatre Guild Playhouse on Sunday.
Much to the applause and delight of the capacity crowd, the mixed pair champions in rhythmic unison displayed their rippling abdominals, well defined quadriceps and sculpted arms in a posing routine that stole Sunday's show and left the patrons asking for an encore.
The chiseled purple clad pair, who blended dancing with a polished routine of muscle poses, used their sharp physiques of superior muscle mass, separation, definition, symmetry and proportion to slice through the competition.  The pairs of Chelan Yhap and Casey Vickerie, Christopher Seaforth and Denzlyn and Paul Meusa and Celestine Bentham were the runners up in that order.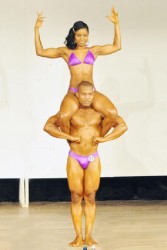 Warner, this year's National Novice Miss Fitness Open champion was the perfect complement to Dublin, the 5 foot-6 inch, 165-pound mass of striated muscle who also posed and flexed his envious physique to win the overall honours in the Mr. Fitness Paradise category.
The crowd favorite earlier in the night wearing pink briefs carved out a first place finish ahead of his gym mates Vickerie, Meusa and Seaforth.
In the free posing routine and compulsory poses Dublin skillfully and teasingly displayed his ripped body made up of a barn-door back and a washboard mid section to loud satisfactory moans by the ladies.
Meanwhile, in the Miss Fitness Paradise Best Legs Contest, Stacy Small's well defined quadriceps, hamstrings and calves gained the judges' nod over Clarke, Yhap and Bentham.
Yhap however returned to take the winner's spoils in the Miss Bikini Contest. Wearing a choral coloured two-piece bikini, Yhap's stance, smile, hair and posture was superior to Clarke's and Bentham's.
Omar Hope was also in the winner's row. Hope won the Mr. Hot Body Contest ahead of Corvin Sealey, Joel Cole and Gariel Yhan.
The award ceremony which saw 18 gym members receiving prizes, culminated with Warner receiving the Gym Member of the Year award.
All winners at Sunday's night's championships received supplement hampers compliments of Fitness Express.
Four lucky ticket holders also received prizes.
The organizers dubbed the event a success and thanked the other sponsors Trophy Stall and Spice Garden Poolside Restaurant and Bar for their support.
Donald Sinclair, owner of Fitness Paradise Gym told this publication that he plans on making the event an annual fixture. The third Fitness Paradise Championships and Gym Awards were held 10 years ago.
Around the Web