National star rider Raynauth Jeffrey won his fourth signature event of the season when he blitzed a star studded field to capture this year's fifth annual Banks DIH Limited Aqua Mist Water 60-mile road race in Berbice on Sunday.
The Team Coco's Club rider, who sped to victory in two hours, 25 minutes and 28 seconds, led teammates, Michael Anthony and Paul DeNobrega (last year's gold medalists at the Junior Caribbean Championships) into the top three.
Jeffrey, who placed fifth overall in last month's five-stage road race, Anthony and DeNobrega, the Junior Sportsman of the Year also pocketed the lion's share of the eight spring prizes, winning six of them with three going to DeNobrega and two to Anthony.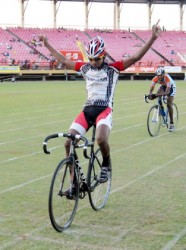 The rapidly improving Hamzah Eastman along with Alex Mendes and top veteran Godfrey Pollydore placed fourth, fifth and sixth respectively in the Flying Ace Cycle Club organized event.
Delroy Hinds and Andre Abdool took the two other sprint primes.
The grueling event which commenced with 35 starters at Banks DIH New Amsterdam Branch on Main Street, continued to Number 43 Bridge and ended at the point of origin, pedaled off at a fever pitch pace.
There were several unsuccessful mini breaks with different sets of riders until Anthony and Jeffrey separated from the field for good about 15 miles from the finish. The pair rode as a team until about 200 metres from the finish line. At this point, the tireless Jeffrey changed gears and took the top honours.
The top female finishers were Hazina Barrett, Marica Dick and Crystal Lambert respectively.
Sales Manager of Banks DIH in Berbice Joshua Terrazzo expressed his gratitude to the cyclists for making the event a successful one and stated that plans will be put in place to make the race bigger and better for the sixth edition.
At the prize giving ceremony, Coach of the Flying Ace Cycle Club and organizer of the road race, Randolph Roberts thanked Terrazzo for the sponsorship of the event. Roberts also thanked the cyclists for participating in the meet and making it a success.
Around the Web