(Reuters) – South Africa, the pre-tournament favourites, recorded their first win of the Champions Trophy with a 67-run victory over Pakistan in Group B at Edgbaston in Birmingham yesterday.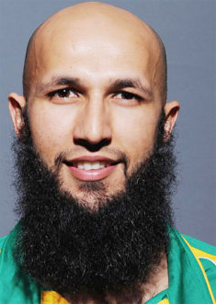 Both sides lost their opening matches in the eight-nation competition in which the top two teams from each group go through to next week's semi-finals.
Pakistan, set 235 to win, lost wickets regularly and fell steadily behind the required run rate on a slow pitch, eventually succumbing for 167 all out from 45 overs.
Pakistan's 39-year-old captain Misbah-ul-Haq, who notched his highest one-day score of 96 not out in the two-wicket loss to West Indies last Friday, did his best to rally his side with 55 from 75 balls but got little support from the other batsmen.
South Africa's 234 for nine off their 50 overs was anchored by Hashim Amla, who profited from a dropped catch before he reached double figures and went on to score 81.
Amla was dropped on seven when he slashed a short delivery from Mohammad Irfan to backward point.
Umar Amin, who had replaced Asad Shafiq in the Pakistan team, got the fingertips of his left hand to the ball but could not hold on to the chance.
Amla and Colin Ingram took the total to 53 in the 15th over when the latter was dismissed lbw by off-spinner Mohammad Hafeez for 20 trying to sweep.
Faf du Plessis was caught for 28 off Irfan and Amla fell at the start of the second powerplay when a reverse sweep off spinner Saeed Ajmal lobbed to Hafeez at short third man. His innings had lasted 97 balls and included nine boundaries.
South Africa will be particularly pleased with their pace bowling in the absence through injury of their two premier fast bowlers Dale Steyn and Morne Morkel.
Morkel will play no further part in the tournament but de Villiers said Steyn would probably be fit for Friday's game against West Indies in Cardiff.
SCOREBOARD
South Africa innings
C.Ingram lbw b Hafeez                                                        20
H.Amla c Hafeez b Ajmal                                                  81
F.du Plessis c Malik b Irfan                                                28
AB de Villiers run out                                                         31
JP Duminy run out                                                            24
D.Miller c Misbah b Junaid                                                19
R.McLaren lbw by Malik                                                        4
R.Peterson not out                                                                16
C.Morris run out                                                                         1
A.Phangiso run out                                                               0
Extras (lb-5 w-4 nb-1)                                                        10
Total (for nine wickets, 50 overs)                                         234
Did not bat: L.Tsotsobe.
Fall of wickets: 1-53 2-122 3-145 4-186 5-195 6-203 7-231 8-234 9-234.
Bowling: Irfan 7-1-27-1 (1nb), Junaid 8-0-45-1 (2w), Hafeez 10-0-38-1 (1w), Riaz 9-0-50-0 (1w), Ajmal 10-0-42-1, Malik 6-0-27-1.
Pakistan innings
Imran Farhat b Morris                                                            2
Nasir Jamshed c & b Tsotsobe                                                42
Mohammad Hafeez c Miller b Morris                                       7
Shoaib Malik b Duminy                                                          8
Misbah-ul-Haq c Amla b Tsotsobe                                            55
Umar Amin c Ingram b McLaren                                         16
Kamran Akmal c du Plessis b Mclaren                                    0
Wahab Riaz b Phangiso                                                        13
Saeed Ajmal c Ingram b McLaren                                             5
Junaid Khan b McLaren                                                        4
Mohammad Irfan not out                                                           0
Extras (lb-7 w-8)                                                                15
Total (all out, 45 overs)                                                    167
Fall of wickets: 1-4 2-18 3-49 4-86 5-129 6-134 7-149 8-162 9-167 10-167.
Bowling: Tsotsobe 9-1-23-2, Morris 7-0-25-2 (1w), McLaren 6-3-19-4, Phangiso 10-0-50-1 (3w), Duminy 7-0-26-1, Peterson 4-0-17-0.
South Africa won the toss and chose to bat
Result: South Africa won by 67 runs
Around the Web