From Orin Gordon at The Oval in London
Kapil Dev, over a modest lunch at the table next to mine, sized up India's chances of chasing down 233.
India, favourites for the ODI trophy after easing into the next round, owes Kapil a huge debt. His 72 in 38 balls at Albion in 1983 was one of the most destructive ODI innings I've seen. It won the game for India, and gave them confidence going into the World Cup that summer. The rest is history—and again Kapil played his part taking a difficult catch to check a rampaging Viv Richards, the decisive dismissal of the match.
Thirty years later the great all-rounder looks as lean and fit as he did in his heyday.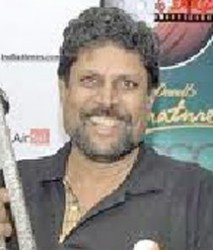 "If Rohit and Shikhar are still there after eight overs, India should win this," said Kapil.
He was being conservative.
Rohit and Shikhar put on 101 in less than 16 overs for the first wicket against some indifferent and distracted new ball bowling from Kemar Roach in particular. India coasted home with 10 overs to spare. Roach, brilliant against Pakistan, was wretched from the Vauxhall end, bowling too short. Sunil Narine threatened briefly but none of the other bowlers troubled the Indian batsmen.
Shikhar has stepped effortlessly into the big shoes of Virender Sehwag, scoring his second hundred in succession in the competition. He was not out on 102 at the end. Rohit and Dinesh Karthik got half centuries.
Earlier Ajay Jadeja derailed the West Indies after a good start from Johnson and Gayle. Darren Bravo offered good support with 35, but labored over it—- 83 balls.
Big brother Dwayne, in a rare undiplomatic moment at his press conference, said he made it plain to Darren that it was "one of his worst innings." He did soften it a little, citing the fall of wickets around the young Trinidadian.
Jadeja's middle order massacre, bowling orthodox left-arm spin, saw the Windies slump to 182 for 9, after cruising past 100 in 19 overs with one wicket down.
Deposed captain Darren Sammy, with only Roach left for support, bludgeoned an unbeaten 56 from 50 balls, with five fours and four sixes. An inside out six over extra cover off Jadeja was one of the shots of the tournament.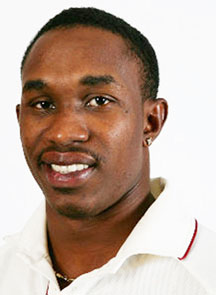 Bravo said the game was lost in the middle order.
"We got off to a very good start… but we lost our way in the middle and we kept losing wickets.
"That is a bit of a concern to us not only in this game but in previous games.
"We have to get good totals for our bowlers to defend."
The two teams have an easy camaraderie. They like and respect each other and mingle easily—- bonds forged as teammates in the Indian Premier League, where Gayle, Pollard, Bravo, Samuels, Narine and others make a good living.
Dhoni captained Bravo, Ravi Ashwin, Jadeja, Jason Holder, Murali Vijai and Suresh Raina for Chennai Super Kings last IPL.
Rohit played alongside Keiron Pollard, Dwayne Smith and squad member Munaf Patel for the Mumbai Indians. Kohli captained Gayle, Rampaul and Vinay Kumar for Royal Challengers Bangalore.
Bravo preferred to talk up his own team's chances against South Africa, in a losers-go-home match out west in Cardiff—- a game Bravo describes as their final against a very good team.
"I know I have the right guys, the right team, to turn it around on Friday."
India beat both West Indies and South Africa. I asked Jadeja to compare them. Self confident and a tad cocky like the new breed of Indian players such as the retired Saurav Ganguly and up and coming Kohli, Jadeja told me that India did not care about the competition. They were focused on their own thing—- one game at a time.
Did the Windies just lose to the best team in the tournament, I asked skipper Bravo.
"I think that the IPL has transformed the Indian batters—- given them that self belief," he said.
"Most of them play short fast bowling very well, and spin as well. I think they have one of the strongest batting line ups in the competition."
India has not always been such a well-oiled ODI unit, as Kapil would be the first to admit.
They'd know, from 1983, that being favourites is no guarantee of winning. But for now, they look awesome.
Sport Editor's note: Orin Gordon is writing about the Champions Trophy in the UK exclusively for Stabroek News
Around the Web