The second edition of the Stabroek Warriors Sports Inter-Market Futsal competition was officially launched at a simple opening ceremony at the Giftland Office Max Main Branch, 13 A Water and Holmes Streets, South Cummingsburg Georgetown yesterday.
The competition, which will be played over seven match days will commence on July 9 at the Cliff Anderson Sports Hall on Mandela Avenue. Twenty markets from various locations are slated to compete including defending champions Stabroek Market.
Giftland Public Relations Manager Compton Bobb stated that while it is a privilege for the company to be collaborating with Stabroek Warriors Sports on this venture, when individuals reflect on sport in Guyana, they think of Giftland.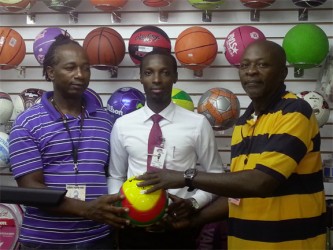 "My hope and wish with Stabroek Warriors is that this event would not just be a another normal event where it's all about the persons running the event, but the players, so that they will benefit and their names will live on throughout the tournament. In any sport we try to let organisers know that it is not all about Giftland or the coordinators but the persons who are working hard for them to be recognized," added Bobb.
Tournament Co-ordinator O'neil Durant thanked the company for its  support while noting that more support from corporate entities is required towards the development of sport as 'sports is the vehicle for people to get to where they want.
"We have included more markets inclusive of Lethem, Bartica, New Amsterdam and Wismar. We are hoping that at the end of this tournament to continue the next year which will be 2014 because our interest really here is seeing Guyana host an inter market tournament within the Caribbean," Durant said.
Individual incentives inclusive of highest goal scorer, most valuable player (MVP) and best goalkeeper will also be won at the conclusion of the event.
Around the Web