LONDON, CMC-West Indies, undermined by slow left-arm orthodox bowler Ravindra Jadeja, crashed to an eight wicket defeat against India in their Group B match of the Champions Trophy yesterday.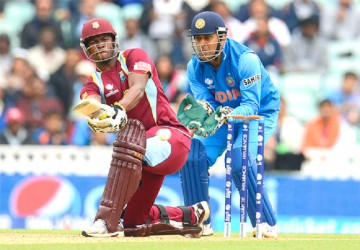 Jadeja took 5-36 as the Windies were restricted to 233-9 despite a gutsy half century from Darren Sammy that followed an explosive half century from opener Johnson Charles.
Shikhar Dhawan hit his second century in a row as India reached their target in just 39.1 overs to eliminate Pakistan from the tournament.
West Indies will now go head to head with South Africa on Friday for the second semi-final place.
Chris Gayle struck four powerful boundaries but the West Indies dangerman was out for 21.
The Windies had made a promising start reaching 100-1 inside 20 overs – but faltered following the dismissal of Charles.
Charles, who dominated a second-wicket partnership of 78 with Darren Bravo, hit eight fours and two towering sixes.
He reached his fifty from 46 balls before being deceived by left-arm spinner Ravindra Jadeja and trapped lbw for 60.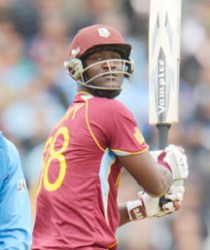 The Caribbean side collapsed from 102 for 1 to 182 for 9 and never really recovered.
Jadeja then removed Marlon Samuels lbw and had Ramnaresh Sarwan caught by wicketkeeper Dhoni down the leg side to rip the heart out of the West Indies batting order.
Bravo made 35 and his half brother Dwayne 25 but West Indies lost wickets at regular intervals.
Kieron Pollard got off the mark with successive sixes but was soon bogged down by some tight bowling and was caught at long-on off Ishant Sharma for 22.
Sammy's late salvo spanned 36 balls and featured five fours and four sixes in the last four overs as the Windies pushed for a competitive total.
Sammy was joined by Kemar Roach with the score on 182 for nine in the 46th over and the former captain launched a withering assault on the Indian bowlers.
He smashed a succession of boundaries mainly straight down the ground and the pair added 51 with Roach not contributing a single run.
Dhawan's classy unbeaten 102 guided India to their target with more than 10 overs to spare and established the World Cup holders as early front-runners.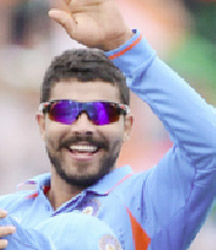 Dhawan shared in an opening century stand with Rohit Sharma who was out on 52 edging spinner Sunil Narine to stand-in wicketkeeper Charles.
Narine finished with two wickets for 49 runs.
West Indies must beat South Africa in their final match Friday to join India in the semi-finals.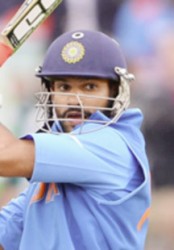 Scoreboard
WEST INDIES
Chris Gayle c Ashwin b Kumar                                             21
Johnson Charles lbw B Jadeja                                              60
Darren Bravo st. Dhoni B Ashwin                                         35
Marlon Samuels lbw b Jadeja                                                 1
Ramnaresh Sarwan c Dhoni b Jadeja                                     1
Dwayne Bravo c Jadeja b Yadav                                           25
Kieron Pollard c Kumar b I Sharma                                      22
Darren Sammy not out                                                          56
Sunil Narine c karthik b Jadeja                                              2
Ravi Rampaul b Jadeja                                                        2
Kemar Roach not out                                                           0
Extras ( b4, lb2,w2)                                                             8
Total (9 wickets; 50 overs)                                               233
Fall of wickets 1-25 (Gayle, 4.6 ov), 2-103 (Charles, 19.5 ov), 3-105 (Samuels, 21.6 ov), 4-109 (Sarwan, 23.6 ov), 5-140 (DM Bravo, 33.1 ov), 6-163 (DJ Bravo, 37.5 ov), 7-171 (Pollard, 42.1 ov), 8-179 (Narine, 43.4 ov), 9-182 (Rampaul, 45.3 ov)
Bowling: Kumar 8-0-31-1, Yadav 9-0-54-1, Sharma 10-1-43-1, Ashwin 9-2-36-1, Kohli 4-0-26-0, Jadeja 10-2-36-5
INDIA
Rohit Sharma c Charles b Narine                                            52
Shikhar Dhawan not out                                                      102
Virat Kohli   b Narine                                                           22
Dinesh karthik  not out                                                          51
Extras (b 4, w5)                                                                      9
Total (2 wickets;39.1 overs)                                                 236
Did no bat: SK Raina, MS Dhoni*†, RA Jadeja, R Ashwin, I Sharma, B Kumar, UT Yadav.
Fall of wickets 1-101 (RG Sharma, 15.3 ov), 2-127 (Kohli, 19.6 ov).
Bowling: Roach 6-0-47-0, Rampaul 6-0-28-0, Narine 10-0-49-2, Sammy 4-0-23-0, Bravo 5-0-36-0, Samuels 4-0-17-0, Gayle 1-0-11-0, Pollard 3.1-0-21-0.
Result: Indian won by eight wickets.
Points: India 2, West Indies 0.
Toss: India.
Man-of-the-Match: Ravindra Jadeja.
Umpires: Aleem Dar, All Hill; TV S. Davis
Around the Web