The City Mall at a presentation ceremony on Tuesday officially confirmed its continued partnership with the Boyce and Jefford Track and Field Classic IV which is scheduled to be held at both the Police Sports Club Ground in Georgetown and Mackenzie Sports Club (MSC) Ground, Linden on August 17th-18th.
An ancillary of Mohamed's Enterprise, managing director of the City Mall Nazar Mohamed, stated that the company wants to be connected with developmental ventures especially in communities such as the mining of town of Linden.
Mohamed told co-ordinators Colin Boyce and Edison Jefford that development and investment was required in Linden and that what they are undertaking is encouraging for the business community.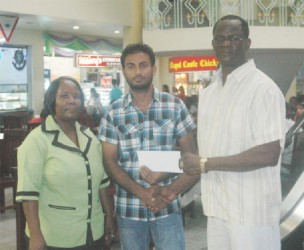 Boyce, who is the chairman of the Boyce and Jefford Classic Management Committee, thanked the company for its continued assistance noting that corporate instances as such illustrate there is hope for the development of sport as it should be treated as a business.
The City Mall has specifically sponsored the individual prizes for the male and female Masters' 60m races. These races were created to attract former athletes whom present athletes would have never seen compete previously.
The winners of both races will pocket $25,000 each while second and third places will earn $15,000 and $10,000 each respectively. Trophies will also accompany the cash prizes for the Masters' races.
The Police Sports Club Ground will host the heats and three distance finals on August 17th. The Grand Finale which commences at 1pm and continues under floodlights will be hosted at the MSC Ground Linden on August 18th.
Around the Web