The 28th edition of the Guyana Fight Night Pro Am card which was scheduled to box off on June 28 at the Cliff Anderson Sports Hall (CASH) will now be staged at the Uitvlugt Community Centre ground one day later.
According to officials from the Guyana Boxing Board of Control (GBBC) the change of venue and ring date was unavoidable due to the ongoing renovations to the floor of the CASH.
Boxing fans however will be rewarded for the changes as the four-fight professional segment of the card has been padded with two featherweight bouts.
Former world rater, Leon 'Hurry Up' Moore (29-2, 23 KOs), Rudolph Fraser, Shahid Alli and his unnamed United States of America opponent have been added to the card. Moore will take on Fraser in an eight-round match up while Alli will face his opponent over four rounds.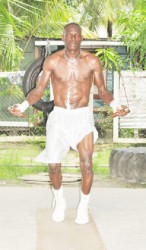 The card is scheduled to be headlined by Trinidad and Tobago-based Guyanese, Dexter Gonsalves (5-1, 2, 2 KOs) and Barbadian Revlon Lake (6-8, 2, 1 KO) for the local junior lightweight title. Lake, the former national lightweight champion, is on a three-fight losing streak while Gonsalves has not fought since 2009.
Both boxers will be looking to resuscitate their respective careers. An all out brawl is envisioned.
The undercard will feature debutants Romeo Norville and Laured 'Nightmare' Stewart. Norville will face Eversley Brown in a four-round middleweight contest while Stewart will take on Anson Green in a welterweight match up which is also scheduled for four rounds.
Troy Lewis (4-16, 1, 2 KOs) will also make his return to the ring; he will face the hard-hitting Berbician, Kelsey George in a four-round super middleweight rematch. Lewis defeated the Berbician in his debut bout in September 2011.
George (0-6) will be aiming to turn the tables on Lewis and record his first professional victory while Lewis will be looking for his fifth win since turning pro in 1999.
Names of the pugilists who will make up the amateur segment of the card will be announced subsequently.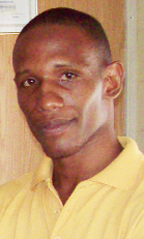 Entertainment will be provided by Slingerz Family.
Admission is $1500.
Bell time is 20:00hrs.
Meanwhile, match maker and executive member of the GBBC, Eon Jardine told this publication yesterday that Guyana's first world champion, Andrew 'SixHead' Lewis and  three-division champion Clive 'The Punisher' Atwell will be in action on the two upcoming Pro Am cards in July and August.
The undefeated Atwell (10-0-1, 5 KOs) is scheduled to take on Barbados' Matthew Robinson and Sherwin Marshall next month and August respectively. Both bouts are scheduled for eight rounds and will be fought in the lightweight division.
'SixHead'  (23-4-2, 20 KOs) will lace it up against George next month if he is victorious against Lewis but  according to Jardine, if George is defeated,  a new opponent will be named for the former world champion.
In August, Lewis will match gloves with Mark Austin for the latter's national junior middleweight crown.
Atwell, 24, the national featherweight and lightweight and CABOFE featherweight and junior welterweight ruler as well as Lewis, 43 will be using their respective contests as warm ups for their more important engagements later this year.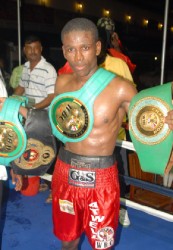 The Punisher will look to improve his record ahead of the lucrative WBC Cup while Lewis, the former WBA welterweight title holder is billed to take on WBC CABOFE welterweight champion, Jamaica's Sakima Mullings who called him out after winning the then vacant title at the Princess Hotel in April.
Around the Web