OSLO, (Reuters) – Olympic champion Usain Bolt responded to last week's surprise sprint defeat in Rome by storming to a world-leading time of 19.79 seconds over 200 metres at the Bislett Diamond League meeting yesterday.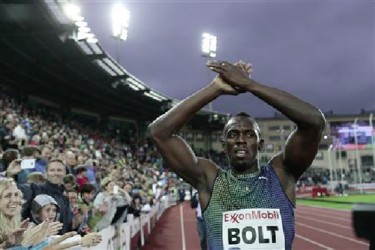 The Jamaican world record holder, surprisingly beaten over 100 metres by American Justin Gatlin in Italy, streaked away from the field to win comfortably on a chilly night in his first competitive race over the distance this season.
"I need to work on my curve, as my coach has said, but overall it was a good race," said the 26-year-old who is the first man to break the 20 seconds mark this year.
"Under better, warmer conditions… (I could do) a 19.50 race, easily," he told a news conference.
Bolt said his confidence was high ahead of the Jamaican trials, starting on June 20, where he needs to be in the top three in the 100 to qualify for the world championships after the country's automatic entry went to titleholder Yohan Blake.
Ever the showman, Bolt appeared to have put the loss to Gatlin out of his mind as he rubbed his arms and pretended to shiver while standing at the blocks before the start.
But once down to business, the six-times Olympic gold medallist showed he had recovered from the hamstring injury that dogged him earlier this season with a meeting record, having said earlier in the week he was in shape to go below 20 seconds.
FALSE START
Home favourite Jaysuma Saidy Ndure was second in 20.36 in a field lacking any other Jamaican or American athletes. European champion Churandy Martina of the Netherlands was disqualified from the event for a false start.
Around the Web