Team Guyana (Back Circle) Captain Wayne Wilson says preparation for the Guinness Caribbean Street Football Challenge 2013 in St Vincent and the Grenadines on June 21st to 23rd has been progressing well and that he expects the team to be victorious.
Beaten finalists at home in the inaugural Caribbean edition at the feet of St Vincent and the Grenadines by a 2-0 score line, Back Circle earned the right to represent Guyana while cementing their status as the best street football team in the country, following their exploits at the inaugural Guinness Greatest of the Streets National Championships on May 24th -27th.
Wilson during an interview with Stabroek Sport declared "We expect to win as we have already competed at this level before. We have been training every day at California Square working on our system and other things we plan to execute during the tournament".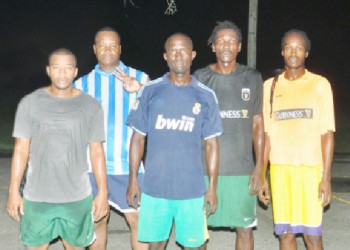 Asked about the expectations of the team, Wilson noted "Going to bring back home the trophy to its rightful place. St. Vincent and the Grenadines took it from us even though we had beaten them before in the preliminary rounds".
Questioned as to the reasons behind the team's consistency in this version of the game, vice captain and top scorer with five goals at the Guinness National Championships, Andy Duke said "it's a well-rounded team and everybody does their job".
"We are a compact unit and not a one man team. It all depends on the team we are playing that's how we create our team plan. We keep it together and learn and study one another", added Wilson.
The team which comprises seven players and two officials will depart these shores on Wednesday June 19th and will return on Monday 24th.
The seven players are Wayne Wilson, Andy Duke, Daniel Favourite, Vincent Thomas, Devon Harris, Phillip Rowley and Seon McKenzie while the travelling officials are Guinness Brand Manager Lee Baptiste and local referee Wayne 'Harry' Griffith.
The competition which runs from June 21st to June 23rd will feature eight countries. The countries are hosts St. Vincent and the Grenadines, St. Lucia, Trinidad and Tobago, Antigua and Barbuda, St Kitts and Nevis, Grenada, Dominica and Guyana.
The winning team will secure a first prize of US$4000 and the opportunity to be a part of a Futsal coaching package in Jamaica for every player and one coach or manager.
The runner up will take home US$2,000, while US$1,500 and US$1,000 will be awarded to the third and fourth-placed finishers respectively.
Around the Web