ARNOS VALE, St.Vincent, CMC –Kraigg Braithwaite and Narsingh Deonarine scored half centuries to lead a West Indies A response against Sri Lanka A at stumps on the third day of their rain affected second four-day "test" at Arnos Vale yesterday.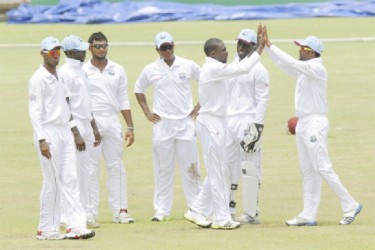 Braithwaite is undefeated on 70 and Deonarine unbeaten on 58  as West Indies A  recovered from an early slump to reach 155 for three in their first innings after the visitors posted 314 all out.
The two shared in a 115 run partnership that lifted them from a precarious 40 for three.
No play was possible on Thursday as a result of rain which also disrupted parts of the morning session yesterday.
Sri Lanka A, resuming from their overnight total of 268 for six, were all out 20 minutes before the lunch interval.
The highlight of the Sri Lanka batting was a knock of 119 from Kaushal Silva before falling victim to the pace of Miguel Cummins who grabbed four wickets for 70 runs.
Jonathan Carter supported by taking three for 51.
Rain returned with a half-hour left in the day's play forcing the players of the field.
Scoreboard
SRI LANKA A
U Jayasundera c Carter b Cummins                                       4
D Karunarathne* c Walton b Carter                                         24
K Withanage c Walton b Carter                                                10
K Silva LBW Cotterell                                                    119
A Perera c Walton b Miller                                                      50
A Priyanjana LBW Cummins                                               20
C de Silva b Permaul                                                             33
T Kaushalya c Walton b Carter                                               15
S Lakmal c Brathwaite b Cummins                                          12
A Pushpakumara c Fudadin b Cummins                               13
V Perera not out                                                                     0
EXTRAS (w1)                                                                         1
TOTAL (10 wickets)                                                          314
Fall of Wickets: 1-29, 2-33, 3-51, 4-215, 5-160, 6-193, 7-252, 8-275, 9-294, 10-314
Bowling: Cotterell 21-4-42-1 (2nb), Cummins 25.1-70-4 (6nb), Carter 11-1-51-3 (1wd), Miller 21-2-55-1,Permaul 22-3-65-1 (1nb), Deonarine 9-3-27-0
WEST INDIES A
K Brathwaite                                                                       70
A Fudadin c b Lakmal                                                              1
K Edwards b Lakmal                                                                1
L Johnson c b V. Perera                                                             12
N Deonarine                                                                        58
TOTAL (3 wickets)                                                         155
Fall of Wickets: 1-4, 2-9, 3-40
Bowling:  Lakmal 12-2-23-2 (3nb), V Perera 10.5-2-36-1 (1nb), M Pushpakumara 9-1-40-0 (1nb), T Kaushalya 11-0-49-0 (1nb).
Around the Web