Guyana's strength for the upcoming Caribbean Karate Championships in Barbados next month lies with the technique of the younger karatekas says Sensei Jeffrey Wong who added that the team was on a mission to bring home as many medals as possible.
"Our training is coming along well. We aim to compete in all the possible events in the competition," he said.
"We are placing emphasis on our strongest departments which are the 8 to 10, 11 to 13 and our 14 to 18 age group. The entire team is very good, but our strength is our younger karatekas," Wong declared during an interview with Stabroek Sport yesterday.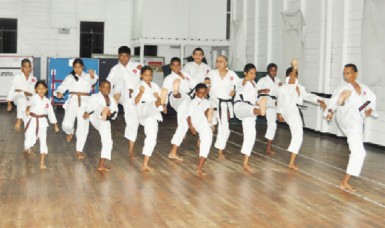 Wong, a Six Degree Black Belt Karateka also disclosed that preparations for the upcoming event were going well at the moment and expressed his joy towards the karatekas whom he said were "gelling" well together.
"The team is beginning to look synchronized and the members are working well together peaking in their sharpness and focus in techniques.
In the 2012 International Karate Daigaku Shoto Camp and World Cup Karate Tournament held in Toronto, Canada, team Guyana's Guyana Karate College (GKC) placed second with 24 gold, 4 silver and 17 bronze medals, walking away with an overall total of 45 medals.
"Our team placed second in the World tournament so, hopefully, our pursuit of success in the Caribbean leg should be ok."
He mentioned young Aliyah Wong, who is the current World champion and Tyler Orderson who is the youngest to ever achieve a black belt, an accolade he received at the age of seven.
Hannah Farinah will lead the girls 5 to 10 years team which will include two other members, while the female aged 19 and over will be led by Nikita Clarke.
Wong also hinted at a visit by Ninth Degree Black Belt and chief instructor of the International Karate Daigaku, Sensei Frank Woon-A-Tai, who will visit Guyana to oversee their grading examinations and will work with the team for one week a move which Wong said, will give the martial artists their "cutting edge.
"We are looking forward to doing well in this tournament. We hope to make our country proud and when we return on July 14 we hope to bring as much medals as possible back with us," he concluded.
The team is scheduled to leave on July 10 and return on July 14.
Around the Web